Refit facility and marina equipment manufacturers among roll call
The International Council of Marine Industry Associations (ICOMIA) has added five new sustaining members. The ICOMIA Superyacht Refit Group, which represents quality refit, repair and maintenance yards and aims to collectively improve quality within the group, is joined by IMS Shipyard, whilst the ICOMIA Marinas Group (IMG) welcomes four new members: ASAR | Safe Harbour Dry Stacks, HydroHoist Marine Group, Poralu Marine and West Istanbul Marina. The IMG works collaboratively to improve the sharing and exchange of information with respect to the development and best practice manag ement of marinas, boat storage facilities, boating access and associated infrastructure throughout the world. The IMG also produces the ICOMIA World Marinas Conference, which is held on a biennial basis.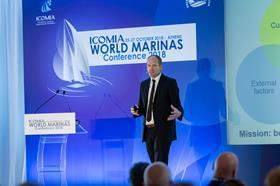 IMS Shipyard has specialized in maintenance, repair and refit of yachts since 1987. With two sites just 5 km apart, IMS 300 and IMS 700, IMS Shipyard is located on the French Riviera and can accommodate yachts from 20 to 90 meters. It brings the group of shipyards working collaboratively to improve overall quality of refits up to 12.
IMG's new members comprise ASAR | Safe Harbour Dry Stacks, which offers complete turnkey construction and automation solutions specifically for the marine industry, to build storm safe concrete and metal marine structures that offer fully - automated smart storage solutions for dry stack facilities; HydroHoist Marine Group includes HydroHoist Boat Lifts, HyPower Power Pedestals – providing shore - side power for boats and featuring a patented PowerSnap technology for the easiest storage or repair in the industry, as well as RotoMoldUSA – a plastics rotomolding company. They are joined by manufacturer of pontoons and marina equipment Poralu Marine, and West Istanbul Marina that combines world class marina facilities with refit and maintenance services for yachts with shopping centers, restaurants and bars, sport and spa centers, beach, sailing school and yacht club.