New marina part of £500m development
Just over a year since it was announced that Camper & Nicholsons Marinas (CNM) had been appointed to design and manage the new 300+ berth Edinburgh Marina, their role has been taken over by MSI (Marina Solutions International).
Neither CNM or Edinburgh Marina Granton Harbour Ltd, the developer for the major new propject for the Scottish capital, were open to making any comment about the change.
MSI is a relatively new company in the marina business having been incorporated in February 2017. Its two partners, James Beaver and William Green are both long-standing marina consultants who both, ironically, have worked for CNM.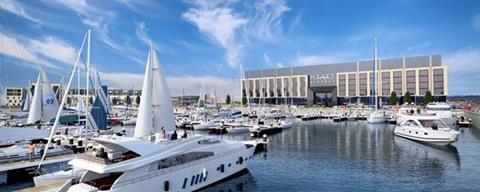 In a statement Edinburgh Marina today (April 30, 2019) confirmed that it had appointed MSI as its specialist marina consultant. "MSI, which operates on a global scale," the statement added: "provides dedicated turnkey services to marina developers from feasibility and concept designs, right through to commissioning and operational management."
A spokesperson for Edinburgh Marina said: "We have appointed MSI due to the firm's experience and long association with the marine leisure industry. It serves a high-quality client base, and the skills of the partners fit well with what we require to assist us to deliver the development of the new Edinburgh Marina."
The spokesperson added: "Now that MSI is onboard it will be working alongside the main contractor, McLaughlin & Harvey, finalising design details, dealing with procurement and project managing the specific construction aspects of the marina, and thereafter commissioning it in readiness for operations."
For MSI, Green commented: "We are delighted with our appointment as consultants to Edinburgh Marina. There is already a great management team and other professionals in place, with whom we look forward to working with. Edinburgh Marina is a rare and unique marina development opportunity; it is to be the marina for the capital city of Scotland."
"Our brief from the developer," he added: "is to see that the new Edinburgh Marina is designed to the highest standards, thereby providing service levels which will be unsurpassed. The yacht owners of Scotland and the Borders can therefore look forward to a centre of excellence on the east coast, and visiting yachtsmen and yachtswomen from further afield will be able to enjoy a first-class facility with access to a safe berth, at all states of the tide."
There was no mention regarding the management of the new marina after it is completed. When the announcement was made in March 2018 about CNM working on the development the working was that it had been appointed to 'design, commission, manage and operate the new Edinburgh Marina.'
The new Edinburgh marina in addition to 300+ fully serviced berths is reportedly being designed to surpass The Yacht Harbour Association's 5-Gold Anchor Award rating. It will include a modern marina office; fully-serviced boatyard and dry-stack operation and additionally there will be secure parking with optional storage.
The marina will be located immediately next to the Edinburgh Marina Spa and Conference Hotel, so yacht owners will be able to benefit from on-board food & drink service and concierge services, as well as access to the hotel spa and gym. Adjacent to the new Marina are a number of domestic residences where prospective owners will have the opportunity to reserve a marina berth when purchasing their apartment.