At least two people are dead and nine people missing in a blaze this morning at Jackson County Park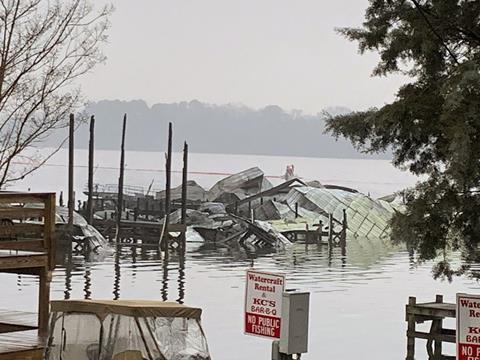 An early Monday morning blaze has left at least two people dead, according to fire officials in Scottsboro, Alabama. Another nine people are reported missing, seven were taken to hospital with a variety of injuries, and as many as 35 vessels, many of them houseboats, were destroyed at Jackson County Park.
"There were numerous people rescued from the water who had escaped by going into the water," Jackson County Chief Sheriff's Deputy Rocky Harnen told The Associated Press shortly after dawn. "We're trying to get divers down here to search for possible victims in the water."
The deputy said the missing are people with boats docked at the marina.
"They had slips here," said Harnen. "That doesn't mean they're in the water and it doesn't mean they're dead. We're making attempts to find them."
Some 17 emergency agencies responded to the scene, according to WHNT-TV, some with search and rescue boats.
Search and rescue operations are hindered by the aluminium and wood dock structures having collapsed on the destroyed boats, some of which have drifted into the Tennessee River near Lake Gunersville.
Environmental crews were using containment booms in the water in an attempt to contain a major fuel spill from the nearly three-dozen houseboats.
Recovery operations and an investigation into a cause are already underway.