Dredging begins at Fijian development
Nawi Island Limited, the firm behind the new 150-berth Nawi Island Marina in Fiji, which is due for completion by November 2020, has marked a milestone achievement with the start of dredging works on the island.
The dredging will see the deepening of the channels into the marina enabling access for superyachts.
Nawi Island Development is an Integrated Tourism Development Project in Savusavu which will be the country's largest International Superyacht Marina Facility, Boat yard/Dry dock Facility, Boutique Resort & Spa along with 38 private island villas, representing an investment of close to $300m.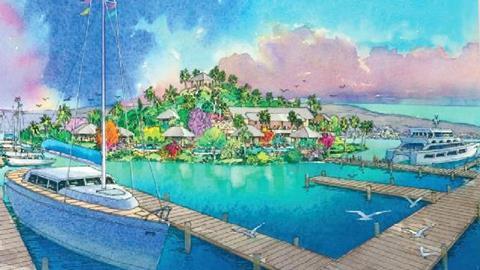 With the upcoming 36th America's Cup, in Auckland, New Zealand, in early 2021 this expansion takes Fiji's yachting industry to another level and further enhances economic activity for Savusavu and Fiji as a whole. The second Phase of the project will be the Resort & Spa Facility and the Residential Villas.
Speaking at the launching of the event, Nawi Island Limited managing director Mike Gann says this marks is a huge achievement for development in Savusavu and the South Pacific as a whole.
The marina is expected to be filled/opened with water within the next six weeks and the dredging portion is to be completed by early 2020. However, the overall construction of the marina is targeted to be completed within 12 months with a soft opening in time for the Americas Cup which will be held in 2021 in New Zealand.
Nawi Island has also tapped into the services of Andrew Chapman who is the president and chairman of Directors of the Marina Industries Association, the peak Industry body for the marina sector in the Australian, Pacific and Asia regions.
Chapman says that the development will see a lot of yachts making their stopover in Savusavu: "This development is a brilliant idea and is targeting a niche market. Nawi Island development and its endeavor to open up an international marina in Fiji has the support of the Australian and the New Zealand yachting communities."
Nawi Island Limited is constructing a 130 berth marina, which will see a 130-berth superyacht marina, catering for both monohul and catamaran yachts and a boat yard facility that will include on-land storage of close to 200 yachts.
Developers announced in August that Nawi Island's aim was to be 'plastic free' and one of the region's first 'green' facilities.