Work underway on Bundaberg facility
Planning for the new multi-million dollar Gateway marina project sited at Burnett Heads, near Bundaberg, Queensland, is now well advanced and work is due to start in the second half of 2019 on the first phase that will have 58 berths.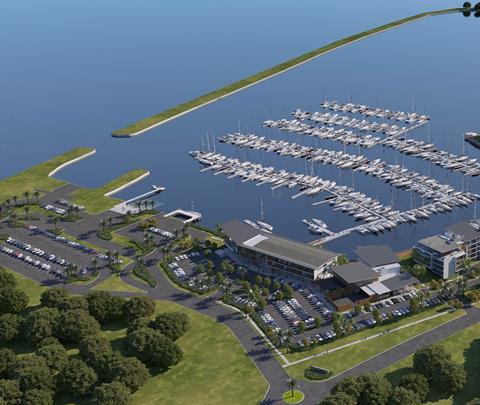 This new project currently has planning permission for 273 berths but this may be extended to a total of 318 as the development moves forward. The whole Gateway marina scheme is designed as a high-quality, mixed use marina village located on the shore of Burnett Heads Boat Harbour. The first phase of 58 berths will offer 56 yacht berths up to 27m (89ft) plus two commercial vessel berths up to 32m (105ft).
Apart from the marina, the development will include a yacht club; waterfront residential community, a mix of maritime and tourism activities, retail outlets, restaurants and cafes, gymnasium, offices and and green open spaces. It will provide an amenity both for local residents and visitors. Users of the marina will have access to free wi-fi a 24hr automated fuel dock, chandlery and other facilities.
Additionally, a future resort will occupy the Eastern end of the site, and a public boardwalk will be situated along the southern edge of the harbour, in front of the apartment buildings. This will be linked by pathways to barbeque and picnic areas and a small beach, providing public access to almost the entire waterfront of the site.
Dredging at the site is underway and will be followed in the second half of this year by the marine works infrastructure and construction of the first stage of the marina.
As part of the first phase, the marina developers are offering a 'Founding Members' package that includes a 10% rental discount and a guarantee of first rights to buy berths.
Simon Harvey from the marina developers, BH Developments QLD Pty Ltd, said: "The marina will offer a safe, sheltered harbour for boaters with easy access to nearby Bundaberg. After years of planning, we are excited to be so close now to welcoming our first boats into Gateway Marina and their owners will enjoy great benefits from day one."
"As well as being in an accessible and picturesque location at the mouth of the river, the marina will offer many of the modern conveniences boat owners are looking for including a 24-hour automated fuel dock, free wi-fi, convenience store, chandlery and onshore bathroom and shower amenities."