Nawi Island Marina will be one of the region's first green facilities when completed in 2020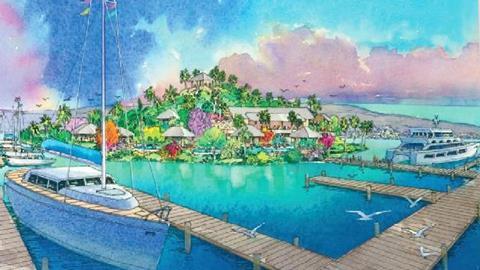 The new 150-berth Nawi Island Marina in Fiji, which is due for completion by November 2020, plans to be one of the first green marinas in the world by banning single-use plastic bags. The marina and associated resort will also be powered by solar renewable energy.
Planned as a world-class facility, the full-service marina is described as a 'boutique marina' by its owners. It will offer berthing for yachts from 10m-60m (39ft-197ft) including monohulls and multihulls. The marina is located within Savusavu Harbour, and is sited just 10 minutes away from Savusavu Airport and town.
All berths will offer fuel and power connections; fire service pedestals, wastewater pump-out, ferry/taxi pontoon, a marina office, cafe/bar, convenience store and chandlery.
The marina's boat yard will be equipped with a 75-tonne travel lift able to cope with the majority of visiting yachts and local craft including catamarans. The yard will offer repair and maintenance services, a hard stand, pull-up fuel and wastewater pump-out, and long-term dry storage.
The marina will be a key part of the resort project and will include a hotel, spa and sporting facilities. There will also be a yacht club.
Nawi Island Ltd's managing director, Mike Gann, comments: "There will be zero use of plastic bags in any of the facilities. We intend to be one of the first green marinas in the world. In doing so, the development on the island will be powered by renewable energy, namely solar. We are also putting in place an organic wastewater treatment system for the whole island and in addition, the company is using sustainable and organic building materials on the island."