New refit facility at Site 18 set to be ready in 2020
Auckland's marine infrastructure is to receive a NZ$100m boost with plans to develop a new refit facility located at Site 18 in the city's Wynyard Quarter. The new facility is expected to create a boom in marine jobs and deliver significant marine and tourism spending.
Plans for Site 18 advanced today after the signing of a Development Agreement between the city's redevelopment agency Panuku Development Auckland and leading marine services company Orams.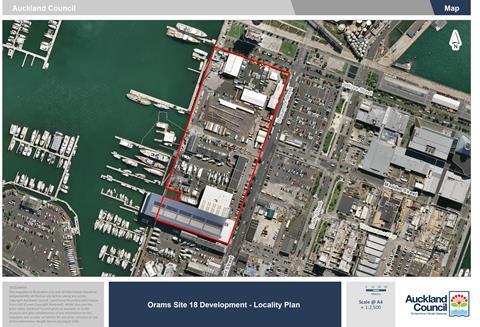 Neven Barbour, Orams CEO, told IBI: "Orams Marine will invest in the vicinity of $100m in marine infrastructure, including buildings. Hopefully most of the marine works will be completed by the end of 2020."
The new facility will feature a marine haul-out and refit facility, commercial buildings and a residential tower on the northern end. It will target marine vessels up to 800 tonnes, which accounts for 85% of the world marine market.
Approval for the project has to be given by New Zealand's Overseas Investment Office because Orams is 50% owned by Ariadne Australia, a listed Australian investment group. This is not anticipated to be an issue and approval is expected by late February 2019.
Auckland Mayor Phil Goff stated: "The new marine facility in the Wynyard Quarter is expected to generate more than 500 jobs, including as many as 200 apprenticeships. A piece of currently poorly utilised land will become the heart of a thriving marine enterprises precinct, which carries on the historic presence of boatbuilding in this area.
"Built in time for the America's Cup 36 races, the precinct will benefit hugely from the refit work which will be generated during the challenge from visiting superyachts and vessels," he added. "There can be no better time to launch this facility."
Site 18 will be developed on the corner of Beaumont and Jellicoe streets on a site that adjoins Orams Marine Village. It will provide increased maintenance facilities for Auckland's ferries, fishing vessels and commercial vessels. The majority of the existing marine business on the site will be accommodated within the new development.
Barbour describes Orams' proposal as "an exemplar development, being a unique mix of marine and residential uses. This proposal is the result of numerous studies focused on adding sustainable value to the marine industry and Auckland's economy."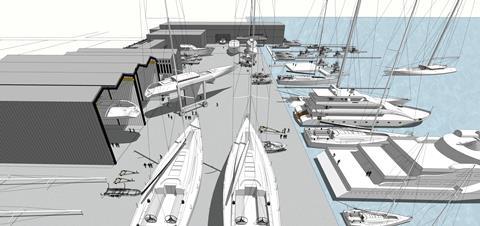 Orams Marine Services managing director Craig Park commented: "The marine sector is an important economic contributor to New Zealand and Auckland, and the city has a strong reputation for quality marine work. The marine refit facility will create more than 500 jobs and generate significant income for the marine and tourism industries.
"The establishment of the Orams Site 18 facility will ensure the opportunity for wider industry and economic benefits will not be lost to offshore competitors," he continued. "Site 18 is considered to be the only marine-zoned site, of significant scale, within the Auckland area able to deliver a facility of this nature, and as such both parties are keen to see this development progress."
As part of the development, the existing seawall will be replaced and contamination remediation works undertaken.
Orams Marine Village has been part of the Auckland waterfront for 35 years and is now a base for 30 marine specialist businesses. The village is home to an international slipway, vessel repair yard, and marine services centre along with a 310-vessel dry stack, fuel facility and conference lounge.