Work on the project started this week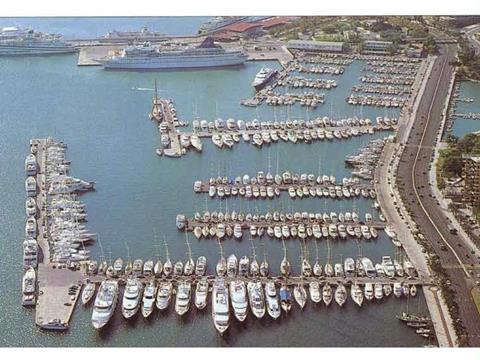 Work began this week on a €60m upgrade to Club de Mar Marina in Palma de Mallorca, one of the major marinas in this leading Mediterranean yachting destination. The project is currently the largest on a public space within the marine recreational sector in Spain using private capital.
The club operates a 625-berth marina that can accommodate superyachts of 100m (328ft) or more. The project has already secured the approval of APB (the Balearic Islands Port Authority) and Puertos del Estado, the Spanish national ports association.
Documentation regarding the go-ahead for the project has been completed and the initial approval for the investment was made by the Club de Mar board of directors in October 2017. As part of the development, the club has gained a 24-year extension to its concession of the site.
The second phase of the project, which is due to start after the summer this year, will include a new building and car parking annex. The building will be an energy efficient and sustainable facility that sets a new standard for the maritime sector.
The key objective of this huge project is to integrate Club de Mar Mallorca with the city of Palma in a much stronger way, and expand its range of services for the local recreational boating market.
Club de Mar Mallorca president, Borja de la Rosa, previously indicated that with the scope of the work, the administrative challenges have been complex. He explained that from the initial approval of the club directors, it has taken three years to get to the point of starting but that it will result in the most modern and sustainable yacht club in Europe.
The project will include the development of a new superyacht dock that will be able to berth four yachts from 136m-170m (447ft-558ft) and beams up to 24m (79ft) wide. This will be the largest single facility of its type in Spain. It is estimated that some 500 direct and indirect jobs will be created by the project.
The project will be undertaken by FCC Construccion and the Vias de Obras Publicas (VOIPSA) organisation. The anticipated completion date is the summer of 2022.