The Montenegrin marina currently offers 400 berths from 12m-180m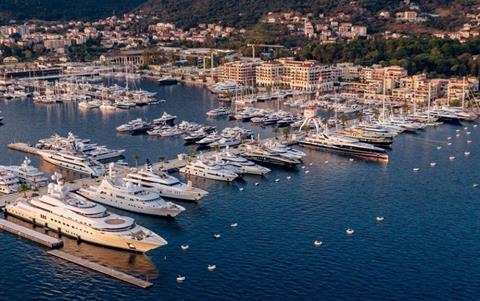 In recent interviews with news outlets in Montenegro and Serbia, Danilo Kalezic, the senior PR manager for Porto Montenegro, has suggested that over the next 15 years as much as €500m will be invested in the Montenegrin marina.
The marina, which is located on Boka Bay at the former naval Arsenal in Tivat, currently offers 400 berths from 12m-180m (39ft-591ft). The marina was the first in Europe to receive a 5 Gold Anchors award (Platinum) from The Yacht Harbour Association (TYHA).
Kalezic was quoted by the Serbian news agency, Tanjug, saying: "We have to keep in mind that we are only building on one-quarter of what is supposed to be the 24 acres that once belonged to Arsenal. I believe that in the next 15 years, we can talk about an additional €500m investment. This is difficult to predict because the site study is still being adopted."
Talking on the Montenegrin TV channel Nova M, he said: "We are currently completing two retail and residential buildings: the Bja Building, which is a continuation of the Regent Hotel and completes the Ridge Pool Club residence system. At the same time, we are completing a building called Elena, worth about €20m, which will open this summer."
Under the site plan it is anticipated that the number of berths will be increased to 450 in the next phase. In another key development, Porto Montenegro is working on a joint venture with the Damen Group to relaunch the Bijela shipyard as a superyacht repair and refit centre, probably starting in Q1 2020. The shipyard, formerly a commercial ship repair facility, is being completely reformed into a dedicated superyacht facility including a floating dock for craft up to 120m.