A new Southern Wind 105ft vessel and a 43m aluminium sloop from Royal Huisman are currently moored at V&A Waterfront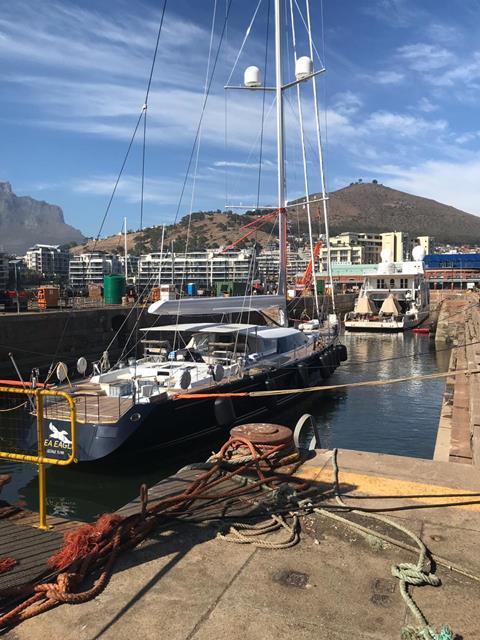 For the first time ever, Cape Town's historic Robinson dry dock has simultaneously hosted two superyachts, fuelling hope that the city's port could one day accommodate a major superyacht maintenance and repair hub.
Cape Town firm R&M Boat Builders confirmed the landmark 'berth' for the two vessels, a new Southern Wind 105ft vessel and a 43m aluminium sloop from Royal Huisman.
The Robinson dry dock, built in 1880, is managed by state logistics company Transnet but situated in the heart of the Victoria and Alfred Waterfront, which also hosts the V&A marina. Although historically the dry dock has accommodated commercial vessels, the facility is considered key to growing the country's superyacht maintenance and repair footprint.
R&N Boat Builders managing director Manuel Mendes said the historic superyacht repair 'double' – the boats were still dry docked together last week – augured well for future collaboration between Transnet and the V&A.
"Two superyachts in the dry dock together, that is really something. It has never been done before," Mendes told the South African Boat Builders Export Council (SABBEX), which reported on the development in their latest newsletter.
He said the successful repair job would enhance Cape Town's profile as a centre of service excellence. "The owner of one of the vessels is building a much bigger vessel, 81m with three masts. They will come to Cape Town. I'm in daily contact with them. They really have had only the best of experiences here," Mendes said.
"We are in the right place. Cape Town has a very important position in the world of yachting or sailing or boating. We are very strategic," Mendes told SABBEX.
The V&A Waterfront recently confirmed they are in discussions with a local ship repair expert with a view to a possible superyacht facility.