Severe weather flips 13-tonne catamaran and sets car ferry adrift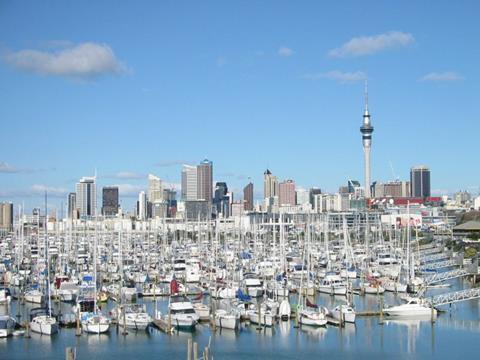 Severe weather this week has left up to 75 boats damaged or destroyed at a central Auckland marina.
Severe storms that began Sunday and continued until early Tuesday morning are reported to have pulled numerous boats from their moorings at the 2,000-slip Westhaven Marina, flipped a 13-tonne catamaran, blew shipping containers off piers and damaged wharves from North Head to the Harbour Bridge.
Auckland's The Cloud event centre had to be evacuated on Sunday evening after part of its roof blew off, while local media report that a waterspout hit downtown Auckland Monday night. In spite of the widespread damage, no injuries were reported.
In a statement to local media, New Zealand Coast Guard duty officer Hemi Manaena said the storms "caused significant damage to moored vessels, upturning and sinking large recreational vessels in and around Westhaven Marina, and casting adrift the commercial Great Barrier Island car ferry. Several large portacom units, shipping containers, cars and pylons were also lost into the harbour."
Authorities are still determining the full extent of the damage caused by the intense weather, which brought heavy rains, gale-force winds, intense hail and tornadoes from Auckland to New Plymouth.
The New Zealand Meteorological Service estimates more than 16,000 lightning strikes across New Zealand over the weekend, more than 700 of them within a single hour on Sunday night.