Funding will permit dredging and substantial repairs to breakwalls damaged by storms and ice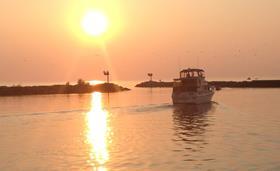 The US government announced it has allocated $12.455m to cover the cost of dredging and extensive repairs to the storm-damaged breakwaters protecting Buffalo harbor.
Situated at the east end of Lake Erie in Upstate New York, the Buffalo waterfront is routinely exposed to the some of the most severe wave and ice conditions on the Great Lakes. The harbor improvements, to be completed by the end of the 2019 boating season, include $6.1m toward repairs to the ice-damaged 2,200ft-long north breakwater, which was constructed in the early 1900s.
An additional $3.5m has been allocated to repair wave and ice damage to the 10,200-foot long south breakwater which surrounds the small boat harbor and a private marina. Built in the late 1800s, it was last repaired during the 1950s. Additional funds will be used to dredge the harbour bottom and repair a sediment containment facility at the south end of the site.
The improvements are expected to provide both commercial and recreational vessels moored in the harbor with substantially greater protection from Lake Erie storms.
Congressman Brian Higgins said the new investment comes on top of $100m that has been spent to date on other waterfront improvements, including remediation efforts to clean the highly polluted Buffalo River which feeds into the harbor.
"You can't rebuild a great waterfront city without clean and navigable waterways, and this investment by the Army Corps of Engineers will go a long way toward helping to position Buffalo to what I hope will be the major destination of recreational boating on the Great Lakes," he said.