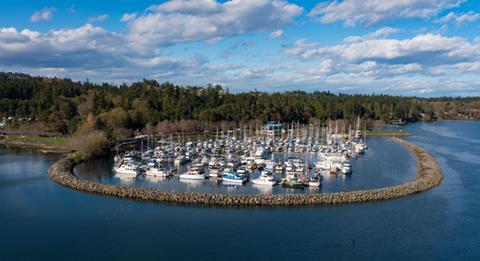 The continuing saga of John Wayne Marina in Port Angeles, Washington, has taken a new turn with the late actor's family taking a more active role in determining the facility's future by putting together options for redevelopment of the marina and 105 acres owned by John Wayne Enterprises (JWE) next to the Sequim Bay facility.
JWE, run by the late actor's son, Ethan, has hired Heartland LLC, a Seattle real estate advisory and investment firm, to study alternatives for the public marina, owned by the Port of Port Angeles, and the adjacent 105 acres John Wayne Enterprises (JWE) owns.
"Heartland will be reviewing existing information, proposing alternatives, and working with John Wayne Enterprises to identify feasible redevelopment strategies," Ethan Wayne wrote in an e-mail to the Port authority, according to the Peninsula Daily News.
JWE has insisted that the port retain ownership of the marina, built on land at Pitship Point that John Wayne donated to the port in 1975 for a marina and which was transferred by his family to the port in 1981. The marina, built by the port, was dedicated in 1985.
Port officials have guaranteed the marina will remain public, but contrary to the beliefs of JWE and the City of Sequim, the port authority remains open to reviewing ownership proposals from businesses, nonprofits and tribal entities.
Private marina developers and the city of Sequim have expressed interest in owning or managing the facility, which port officials say needs US$22m infrastructure upgrades beginning in 2035 that the port can't afford to make.
"As we discussed, there are several parties who have expressed interest in the future of the marina and our property, which creates both complexity and opportunity," Ethan Wayne said in his email.
"Redevelopment of our property, in conjunction with the marina, could be a catalyst for creating significant economic well-being in the city of Sequim, Clallam County, and create a unique and lasting synergy."
The city of Sequim is exploring an ownership-management arrangement with the Jamestown S'Klallam Tribe.
Port authorities have issued a Request for Information (RFI) from any interested parties. According to the RFI, ownership and management models include transfer of ownership to a public entity such as the city of Sequim, transfer to a nonprofit, leasing to a marina management company, or "some combination of the above or other ideas that could meet the port's objectives."