Marine & Property Group (MPG) receives £10.4m advance to invest in new equipment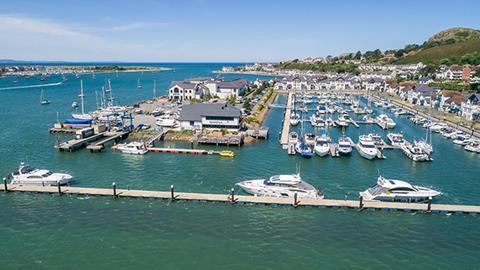 The Cardiff, Wales-headquartered marina and boating services group, Marine & Property Group (MPG), has secured funding of £10.4m from the innovative financial services business, ThinCats. The new funding will be used to consolidate some existing loans and support further expansion including acquisitions and enhanced diversification in current activities such as dredging.
MPG has its head office at the Cardiff Marine Village, and it owns some 1,200 berths at four marinas located at Cardiff, Burry Port, Port Dinorwic and Aberystwyth. In addition to the marinas, the group also has some 70,000sq ft of commercial property, boatyard services, boat refit and repair, and mobile mechanical engineering.
More significantly MPG provides a dredging service for ports and marinas, which a sizeable part of the ThinCats funding will be used to expand. Christopher Odling-Smee, executive director of MPG, said: "We reached a stage in our development where we needed a clear funding strategy to support our longer-term growth ambitions. Up until now we had accumulated a range of tactical loans from a variety of lenders including the high street banks."
He told IBI: "We used ThinCats because they offer flexible funding which is developing to meet the specific customer needs. They are different from the traditional financing sources and this was better to meet our requirements."
He explained that MPG offers a dredging service which operates nationwide for ports, marinas and other sites. "The equipment is carried on trucks so that it can be used to reach all the awkward parts of marinas which larger floating plant cannot reach," he said. "We have two systems at present and we want to expand this with a third unit next year and others in the future. Several millions of the £10.4m will be used to expand this specialist service."
In regards to ThinCats, this was the second marine sector advance that they have made in the last few years and also the MPG advancement is the largest that it has made to a business in Wales.
The transaction was led by Christopher Odling-Smee on behalf of The Marine Group and introduced to business development director Kash Moghul of ThinCats by an Essex-based adviser. "Having made contact with Kash and the ThinCats team, they recognised our potential and helped shape an approach that will allow us to expand our existing activities and diversify into newer areas such as increasing our dredging capacity," commented Odling-Smee.
Moghul, director of business development at ThinCats, said: "The Marine Group has a clearly defined growth strategy, high barriers to entry, diverse income streams and an excellent leadership team in Chris and Drew. ThinCats is keen to support regional entrepreneurs with strong links to their local communities, so this transaction ticks all our boxes."
Alison Whistance, director of regional business development for ThinCats in Wales said: "This is a landmark deal for ThinCats. The Marine Group is already the leading operator of marinas in Wales – owning 25% of the berths available – yet they are keen to expand further. We are delighted to be supporting these ambitions and hope this funding will be the start of a great long-term partnership."