New or upgraded facilities planned for Pwllheli, Milford Haven and Barry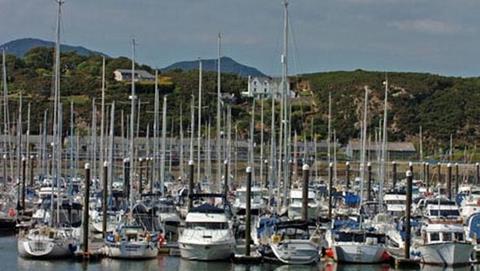 Two existing Welsh marinas and a potential new one are all undergoing different projects with revitalisation planned for Pwllheli Hafan Marina, expansion at Milford Haven Marina, and a possible new marina project in Barry.
Regarding Pwllheli harbour and its Hafan marina, Gwynedd Council is proposing to develop a new masterplan intended to manage the revitalisation of the area surrounding one of Wales' most popular marinas. Built around a successful business case to attract new funding, having worked with other local facilities such as Plas Heli, this could be a means of upgrading Harbwr Pwllheli and the Hafan marina. This follows an admittance by council offices that there had been a historic lack of investment.
Uyr Jones, the deputy head for economy and community, commented at a council meeting that "the added cost of dredging the channel was among the highest in Britain". He accepted though that silting problems impacted upon the situation and therefore the costs involved.
The remit for the consultant to look at the plans would also include within the masterplan, the Glandon area of Pwllheli where the Royal National Lifeboat Institute (RNLI) is currently building a new lifeboat house. The masterplan will address all issues and look at the lack of investment and what new developments might be recommended. One might be to attract private sector interest to enter into a long-term partnership with the council.
Regarding Milford Haven, planning permission has now been granted for a major mixed-use redevelopment – a project that could generate over 600 new jobs. The Milford Waterfront scheme is a 280,000sq ft project initiated by the Port of Milford Haven, and it will include commercial, leisure, retail and fishing industry floorspace. The planning and development consultancy Turley secured the planning permission.
The project involves up to 70 marina berths and 190 new residential properties plus new public areas. The Grade II-listed Quay Stores building on Victoria Road will also be restored and extended to create a multifunctional events space.
"We are pleased that outline planning permission has been secured for Milford Waterfront and are working hard to deliver tangible development activity to support the ongoing promotion of Milford Haven as a place to visit as well as to live and work," said Port of Milford Haven chief executive, Andy Jones.
The latest planning permission follows an application made in 2015 which has since been amended and updated. Turley's head of planning for Wales, Huw Jones, said: "The detailed planning applications for the first two phases of development are scheduled to be submitted in December this year. Once approved, Milford Waterfront will create a thriving and vibrant visitor destination in Pembrokeshire."
As to the possible new project at Barry, a study has been commissioned by Vale of Glamorgan Council and Associated British Ports. The Barry docks are still used for some commercial activity with land available for businesses. The Marine Group, a Cardiff-headquartered business which already includes a number of Welsh marinas in its portfolio of activities, has been commissioned to make the study into the marina project. It will undertake a feasibility study which will investigate the technical and commercial viability of smaller boats and yachts accessing and mooring in the dock. It will also look at the economic benefits a marina would bring.
Cllr Lis Burnett, cabinet member for education and regeneration, said: "This study is a great opportunity for us to look into the detail of creating a marina in Barry which, if it were to prove to be achievable, would add to the quality tourist and leisure destination that Barry has become and provide local job opportunities. There are some really exciting regeneration initiatives under way in the Barry area and this study could signal the next major opportunity."
Chris Odling-Smee, Marine Group director, said: "We are delighted to have been appointed to assist with the feasibility study of a full-service marina on Barry waterfront. Our expert consultants from Waterco, Pebble and Kaymac working alongside our own harbour management specialists will provide the best possible options to further the exciting momentum and success of Barry."
He added: "Barry has the potential to become a strong contributor to the economic development of coastal Wales and a welcome addition to the network of marinas around Wales and beyond."
Andrew Harston, ABP regional director, said: "We are delighted to be working with the Vale of Glamorgan Council on this project, which has the potential to establish Barry as a marina destination by making use of the former working dock. This could enable leisure and marina activities that will help to further stimulate tourism growth."
He continued: "The marina has the potential to complement other existing water-based activities at ABP's Port of Barry and, if feasible, will further add to the significant investment and economic regeneration that has already proved successful at Barry Waterfront."