Study shows it generates €2.3bn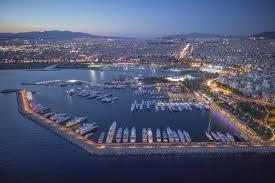 In the lead-up to the ICOMIA World Marinas Conference, which is being held in Athens over the next three days, a report highlights that Greece's marine tourism sector directly contributes €2.3bn to the country's GDP.
This report has been produced by INSETE, the research institute of the Greek Tourism Confederation (SETE), and it covers not only yachting and boating but also cruise travel and coastal shipping.
In addition to the direct GDP contribution, the report found that the marine tourism sector directly accounts for 1.3% of national employment which equates to 22,500 jobs.
Taking into consideration the indirect impact of marine tourism sees the GDP contribution rise to between €5bn and €6bn, which is 2.9% to 3.5% of the total.
ICOMIA data states that Greece's yachting activity is worth some €800m. According to the INSETE report, the number of craft in Greece is estimated at 170,052 vessels. This comprises:
125,137 plastic/outboard motorboats
21,400 inflatable boats
4,060 sailboats
13,445 inboard motorboats
Greece is said to have 22 established marinas, offering a total of 8,924 berths. It is estimated that there are a total of 13,500 berths at marinas, tourist ports and boat shelters.
In 2017 Greece received 3,415 visits by cruise ships, according to data from the Hellenic Port Authority. These visits accounted for 4.62 million passenger arrivals and the cruise shipping direct contribution to the economy is estimated to be €600m.
Coastal shipping handled 17.4 million passengers in 2016 on domestic short-haul routes and 1.52 million passengers on international routes. The industry's estimated contribution to GDP was €900m, accounting for some 6,000 jobs.
In 2019 Greece is looking to expand its number of Blue Flag beaches and marinas. This was outlined by Tourism Minister Elena Kountoura at the Blue Flag National Operators Meeting held in Zakynthos. The meeting had 60 participants form 43 countries with strategies, best practices and future challenges being discussed.
The minister added: "We are seeking to maintain our high ranking, making sure that we meet the criteria every year, restoring Blue Flags, and committing to working hard so that in 2019 more Greek beaches gain Blue Flag status."