Pre-owned boats represented 71% of all unit sales in America last year – considered a healthy level for the overall market
In 2018, 976,200 pre-owned recreational powerboats, PWC and large sailboats changed hands in the United States, down a marginal 0.6% from the previous year. For the fifth consecutive year, unit sales growth in 2018 was led by the inboard ski/wakeboard boat segment, up 5.4 percent compared to 2017. Estimated pre-owned boat sales dollars totaled $9.8 billion in 2018.
The figures come from the fourth instalment of the 2018 U.S. Recreational Boating Statistical Abstract, released today by the National Marine Manufacturers Association (NMMA) – the national trade body for the boating industry in America.
"The U.S. pre-owned boat market was down slightly in 2018, mostly attributed to limited inventory of sterndrive boats and a minor downward trend in smaller fishing boats; the overall pre-owned market tends to be constrained by inventory," said Thom Dammrich, NMMA president. "We are seeing new and pre-owned boat sales ratios return to historical pre-recession levels and the pre-owned market continues to contribute significantly to marine accessory sales and services."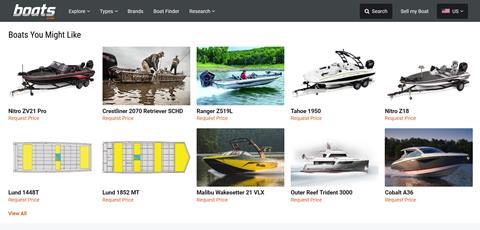 The pre-owned market is considered an important entry route for first-time boat owners and an overall indicator of the general health of the market for boat sales. In 2018, the unit ratio of pre-owned to new boat sales returned to pre-recession levels: 71% pre-owned vs. 29% new.
During the last recession, pre-owned boats flooded the market as owners struggling with too much debt or facing uncertain circumstances due to downsizing and job losses opted to exit boating. The resultant glut of recently purchased product available for sale led to fire-sale prices for pre-owned boats – pricing which new boat manufacturers and dealers were unable to compete with.
Trends in US Boat Sales -
Pre-Owned vs. New
Source: NMMA

Year

Pre-Owned

New


2008

70%

30%

2010


81%

19%

2018


71%

29%
Although it took several years for that situation to reverse, the current balance of new to used-product sales is considered to be at a healthy level – enough availability of reasonably-priced inventory to motivate first-time owners and at the same time – sustain re-sale values for existing owners who want to trade-up.
The full 2018 U.S. Pre-Owned Boat Market report from NMMA includes retail unit sales data, retail market values, average price information. Retail unit sales breakdowns are provided by length, hull material and propulsion category or boat type, and is now available in the Statistics section of NMMA.org.
NMMA members receive unlimited complimentary access to the digital versions of each section of the Statistical Abstract as they become available, in addition to the full statistical report, compiling data across all segments of the American recreational boat market for the prior year – due for release in July. Digital versions of the reports are available for purchase by non-NMMA members at the link below..
The release schedule for the remaining sections of the 2018 Recreational Boating Statistical Abstract is:
June: Cruiser, Watersport, Off-Shore Fishing Boat and Trailer Sales Trends
July: Boat and Engine Exports and Imports; Total Industry Sales by Category and State; Total Boat Registrations
August: Full Report
Bookmark www.nmma.org/statistics/publications/statistical-abstract for direct access to the 2018 Recreational Boating Statistical Abstract.or contact stats@nmma.org for more information.