Several marina projects in various stages of development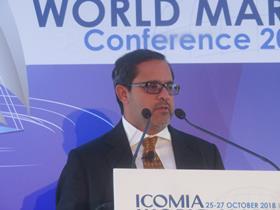 India has always been looked upon as holding a sizeable recreational marine market potential, but somehow it has never made much progress. New initiatives under the current government could prove to be the catalyst that will change that.
In a presentation at the recently held ICOMIA World Marinas Conference in Athens, Greece, Aashim Mongia, president of the India Marine Federation and chairman and managing director of West Coast Marine Yacht Services, highlighted that over the past two years a number of policy decisions taken by central and state governments could pave the way for greater and faster coastal developments. These decisions relate to sections of India's environmental protection law.
These changes have led to a number of marina developments being planned or being the subject of feasibility studies at a number of coastal locations throughout India. Supporting this, there has also been a greater focus on the development and regeneration of India's hinterland waterways network. There is now a two-part national waterways programme – NWI and NWII – linked to these waterways with a fast-track development process being initiated.
In his presentation, Mongia pointed out that boat buyers are making a comeback after a lull of six years and that interest in marine tourism is increasing. He emphasised that a coastal cruising policy currently being compiled will potentially open the door for attracting superyacht traffic.
A three-day forum covering these developments and focusing on Indian Ocean yachting markets, which had been scheduled to be held this month, has been rescheduled for early 2019. Related to this, plans are also underway to hold a sailing regatta and a yacht and boat on-water show, making it the first time this has happened since 2010.
To date, India boasts just one marina with some 50 berths based in Kochi in southwest India. However, there are another seven projects that could see the building over an unspecified time of over 1,700 berths. These projects are as follows:
Andaman & Nicobar Islands: a 50-berth marina plan for which the selection of a private sector partner is underway
Goa: a 500-berth marina is proposed and the developer is currently working through all the necessary planning clearances
Mumbai – around 1,000 berths are envisaged across a number of projects. The Mumbai Maritime Board has awarded the development rights for a 30-berth marina in the city's Belapurcentral business district. Also, an RFP for a 100-berth marina at Mandiva has been issued using the Swiss Challenge method
Chennai: Plans for a marina at a residential township with an as yet undecided capacity
Pondicherry: Feasibility study underway for a marina but capacity not finalised
Kolkata: a 50 or so berth rural marina planned where a private developer has announced the project which is coupled with a real estate development
Tuticorin: Tuticorin Port has released an RFP for a 100-plus berth marina project for which a developer is being sought
Alongside all these projects, work in ongoing to formulate a framework for marina developments. The central Indian government and specifically the Ministry of Environment and Forests has now completed Terms of Reference for marina schemes.
Mongia also pointed to the Mandwa Port Terminal project, suggesting it was a small but extremely important example of how the situation can change within a short period of time when government support is working in conjunction with the planners. This is likely to lead to the clearance procedures for marina projects being accomplished more quickly.
The awareness of what marina developments can offer in terms of economic benefit both nationally and locally is increasing. This, in turn, is leading to many provincial state governments having a greater interest in marina developments.
The huge Sagarmala programme, which is a $120bn investment in developing new and renovating existing ports, will result in time to benefit coastal marina schemes.
Also, the Indian government is making a huge investment in upgrading the country's national waterways through its two NWI and NWII initiatives. These involve 4,503km across 15 of India's states. Through these two programmes, 67 floating terminals are being planned plus another 41 through the Kochi Water Metro Project. These three schemes have an immediate requirement for 11,000sq m of concrete pontoons.