Export-focused builders are expanding sales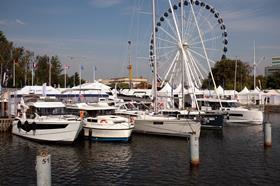 Polish boatbuilders have managed to increase yacht sales last year to 801 craft, up 17.3% compared with 2016.
In 2015, Polish boatbuilders sold 640 such yachts, said consultancy firm KPMG in its market report based on data from the Polish Chamber of Marine Industry and Water Sports (Polboat). The association defines luxury yachts as those with a price tag of at least €200,000 (US$229,000).
"The industry still remembers the deep crisis that began in 2008 and is cautious regarding the further development of this market in the coming years," says Polboat president Sebastian Nietupski in the report.
It is estimated there are close to 1,000 companies active in the country's boatbuilding sector, but more than 95% of the Polish industry's output is intended for foreign markets. These include Western Europe, as well as countries in North America, Asia, the Middle East and Australia.
Set up in 2006 and based in the country's capital Warsaw, Polboat says it represents the interests of local boatbuilders, producers and distributors of accessories, suppliers of equipment, and other stakeholders from the Polish yacht industry.