The 2020 Global Order Book, tracking superyachts over 24 metres ordered or under construction annually, dropped by -3% to 807 projects in 2019, down from 830 in the previous year's tally.
The 2020 Global Order Book – compiled by Boats International and tracking superyacht projects over 24 metres ordered or under construction annually – dropped by -3% to 807 in 2019, down from 830 projects in the previous year's tally. Total project length for last year was 32.3 kilometres, a slight decline of 1% compared to 2018 orders.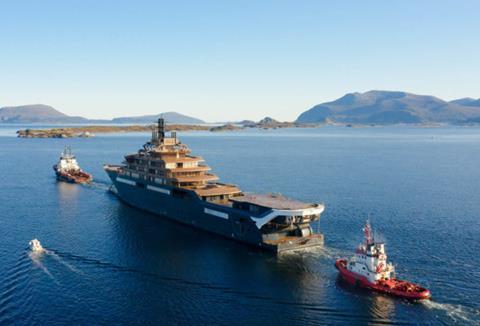 Some segments outperformed others and there is certainly no shortage of activity at the highest end of the spectrum where a record 21 vessels exceeding 100m (328ft) are under construction. Among them is the Research Expedition Vessel (REV), a 182-metre yacht being outfitted by Norwegian shipyard Vard for its billionaire countryman Kjell Inge Røkke. When completed, REV will take pole position as the world's largest yacht displacing the 180m Azzam, owned by UAE president Sheikh Khalifa bin Zayed Al Nahyan.
According to Boats International figures, there were just six vessels more than 100m in length, and only 24 over 74m between 1970 and 1979, while there are now 50 yachts in the largest segment, with 170 yachts exceeding 75m.
Other growth segments in 2019 and highlighted in the report included:
120- to 149-foot segment: 134 units (+10%)
90- to 99-foot segment: 128 units (+9%)
Expedition yachts: 58 units (+5.5%)
Sailboats: 59 units (+15.7%)
The study noted the 'mid-size' market, ranging from 150-250ft (46-76m), was "steady" logging an average of 140 projects annually since 2012 and enjoying a slight uptick last year to 147 projects.
Italy remains the top country for superyacht construction with 398 orders in 2019, and a total project length of 14,374m. Azimut-Bennetti, the Ferretti Group and Sanlorenzo are the top three producers in Italy and also worldwide.
In order numbers, the Netherlands ranks second with 72 projects, down slightly in 2019 (-7%); followed byTurkey with 65 projects, Germany with 19 and Norway with 3. However, in terms of gross tonnage and length overall, Germany and the Netherlands are the market leaders where German-yard Lürrsen has 7 out of current 9 projects over 100m.
Stewart Campbell, editor of Boats International, said: "The industry as a whole remains confident, but is eyeing 2020 with caution. He highlighted the positive growth in active shipyards and the top end of the sector where there "are still plenty of owners willing to commission massive superyacht projects. The number of yachts over 75 metres in build now," he added, "is double the number recorded in 2009 – the peak of the previous superyacht boom."
According to BI's figures, the number of active shipyards was up nearly 13% in 2019 to 170, but still shy of the peak number of 199 yards in 2008. Yachts built on speculation (without an owner) still represent 43% of the Order Book.