The stock market has reacted negatively to Beneteau Group's FY 2018-19 outlook (announced after the close of the Paris stock exchange yesterday) in which the French builder projected a slowdown in the global boat market. 
Groupe Beneteau presented its outlook for 2018-19 late yesterday, predicting a slower pace of revenue growth for its Boat Division – between +4 and +6% – down from 9% last year. The builder said the forecast figures are based on "an increasingly challenging economic and financial environment as well as a slowdown in the global boat market, affected by the inboard motorboat segment's slowdown (all hull lengths)."
The company said the order book for FY 2018-19 – as of January 31, 2019 – is up +4.1% compared with the same period the previous year. The sailing segment is continuing to develop, with its order book up +12.3%, while the motorboat segment is down -3.2%, notably due to the market slowdown in the inboard segment.
Despite Beneteau's still positive expectations for its own business, investors have reacted negatively to news of an expected slowdown in the overall boating market. The company's share price has tumbled 21% in the 24 hours since the announcement, falling to €10.00 this evening from €12.76 at yesterday's closing.
Beneteau also noted that the trade tariffs introduced since July 2018 by the EU and Canada on motorboats produced in the US were having a negative impact on international sales and leading to increased competition in the United States' domestic market. Demand for large motorboats over 60 feet is contracting across all regions, according to the company. Full-year revenue growth for the Boat Division is expected to reach +4% to +6% on a reported basis, outpacing the markets.
For the 2018-19 season, Beneteau said its 11 boat brands will be launching a total of 32 new models, effectively aligned with demand from growing market segments, including monohull and multihull sailing, outboard motorboats.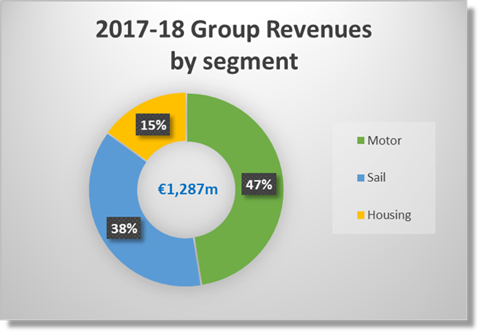 Other Highlights from the forecast:
Consolidated Group revenue growth of 3% to 5% based on reported data and 2% to 4% at constant exchange rates
Rate of Group income from ordinary operations stable based on reported data
Investments maintained with the Transform to Perform plan
Impact of the trade war on the American motorboat business and tensions in the superyacht segment (>60 feet)