Growth in unit sales, dollars forecast to continue through 2019 season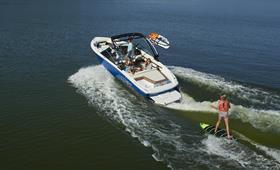 According to the National Marine Manufacturers Association (NMMA), 2018 marked the seventh consecutive year of growth for retail sales of new powerboats in the US. The American trade association announced a 4% year-over-year increase in unit sales of new powerboats to approximately 280,000 units, marking the highest total since 2007.
"The recreational boating industry has been on a seven-year climb that's expected to continue into 2019, bringing even more people to the water," said Thom Dammrich, NMMA president. "Driving these sales is a combination of the economic growth we've seen over the past decade, particularly with consumer confidence hovering near all-time highs and consumers seeking out boating as a way to spend quality time with family and friends outdoors.
"At the same time, over the past five years, marine manufacturers have put a concerted effort on offering new products that attract consumers with different interests and budgets, bringing out new buyers – especially across the watersports, fishing, and pontoon categories – three categories seeing unprecedented sales growth."
Nearly all new powerboat categories saw sales growth last year, with sales of new watersports boats for wakesurfing and wakeboarding estimated to be up from 9%-11% year-over-year to an estimated 10,000 units in 2018. Sales of new personal watercraft – seen as a gateway purchase to larger boats – were estimated to be up by 6%-8% and an estimated 68,000 units, while pontoon boats showed an increase of 4%-6%, reaching an estimated 58,000 units.
Sales increases for freshwater fishing boats and cruisers between 22ft-32ft were both reported to have increased from 2%-4% year-over-year, reaching volumes of 75,000 and 9,000 unites respectively. Sales figures for sailboats are calculated separately, and will be released in February.
NMMA's forecast for 2019 remains positive despite continuing trade tensions, with continued growth expected to deliver a YOY retail sales increase in the range of 3%-4%.