NMMA has released the first section of its annual statistical abstract detailing trends in the dynamic outboard segment
US retail sales of outboard engines grew another 3% in 2018 to 278,500 units – a 12-year high and the 7th consecutive year of growth.
According to America's National Marine Manufacturers Association (NMMA) which compiles the annual data on the US boating market, the average horsepower of all outboard engines sold last year continued its upward trend as well, hitting a new record of 119.4hp. Nearly one quarter of outboard engines sold in America – 64,500 units – were 200 horsepower or greater and have doubled in the past 5 years. Outboard engines rated 300hp and above grew 14.3% year-over-year to 25,388 units up from 9,788 units in 2013 when NMMA first started breakout sales of engines over 200hp.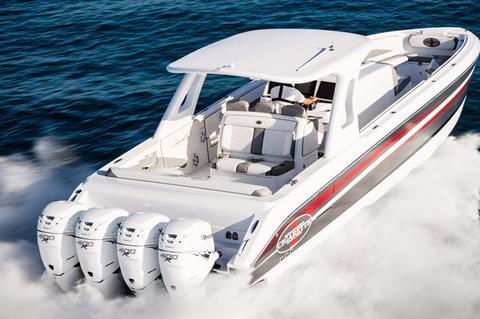 With the shift to higher power engines, the retail value of sales has been climbing too. The average value of a new outboard engine in 2018 was up 3% to $9,543, while the total retail value for all outboard engines last year grew 6% to $2.66 billion – more than double the sales value in 2010.
Growing consumer preference away from inboard-powered cruisers and sterndrive powered runabouts towards day boats like RIBs, centre consoles and pontoons utilising outboard power is a global trend as outlined in IBI's in-depth look at the outboard segment in the most recent issue of the magazine. In addition to bigger outboard motors, boat owners are also hanging more units on the back of their transoms to power bigger, heavier boats, including sport cruisers.
The growing popularity of outboards is also driven by technological advancements which are delivering higher reliability, quieter and more efficient-fuel operation, as well as more on-board space. Together with advance control technology which make outboard boats easier to operate, engine makers and boatbuilders in this part of the boat market are racing to keep up with demand.
NMMA's 2018 Outboard Engine report is available in the Statistics section on www.nmma.org