Full-year wholesale sales expected to eclipse 500,000 units in 2021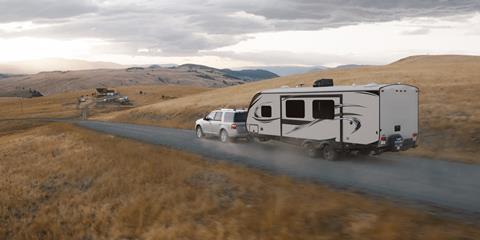 The RV Industry Association (RVIA) says that sales of recreational vehicles (RVs) in the US are expected to exceed 500,000 units in 2021, reflecting a year-over-year sales jump of 18.7% above the 423,628 units sold in 2020.
According to the organisation's 2021 forecast, prepared in cooperation with ITR Economics, total wholesale RV shipments for the year are expected to range between 490,300 to 515,400 units, with the most likely model suggesting sales of 502,582 units by the end of December. That figure would represent an 18.7% increase over 2020 shipment totals, which themselves marked a 4.3% year-over-year gain above the 406,700 units shipped in 2019, in spite of a near two-month manufacturing shutdown related to the Covid-19 pandemic.
"The RV industry is on track to break half-a-million RV shipments in 2021 for only the second time in its history," said RVIA president, Craig Kirby.
The majority of units sold would be trailers, which typically outsell motorised RVs by a margin of about 10 to 1. Towable RV shipments for the year are expected to range between 442,200 and 465,200 units, with a most likely outcome of 453,200 units. Motorhome shipments are projected to range between 48,100 and 50,200 units, with a most likely total of 49,200 units for the year.
Kirby, who succeeded Frank Hugelmeyer as RVIA president in October 2019, said that confidence in the 2021 forecast is high as a result of recent successes in attracting first-time buyers. "The number of first-time buyers has absolutely skyrocketed this year," he said. "I would say that we're seeing anywhere from 55% to 70% of RV purchases being made by first-time buyers. We conducted a consumer survey and we found that more than 46m Americans plan to go on a RV vacation within the next 12 months. Our country's population is 335m, so that is an enormous proportion."
The RV industry's Go RVing consumer outreach program, similar to NMMA's Discover Boating initiative, recently announced that its "Go On A Real Vacation" campaign which ran in the autumn of 2020 achieved more than 1 billion impressions across all media platforms, including high-profile spots on national television during major sports events. It, along with additional initiatives run earlier in the year, is credited with driving consumer interest and contributing to the number of first-time purchasers.
Kirby added that the growing numbers of buyers are facing a seller's market, as RV production in the US continues to lag behind demand. The result is a comparatively sparse inventory pipeline, which further supports RVIA's projections for a spike in wholesale shipments.
"The current pipeline is very lean," notes Kirby. "Even if there were no sales tomorrow, the dealers would still need to buy a lot of units just to restock their lots. At the same time, there's no question that the industry is still experiencing some pandemic-related supply chain issues while sales have been very strong, so that hot market has made it even harder for everyone to keep up."

IBI's premium information service draws on more than 50 years of reporting, 38,000 archived articles, and some 20 correspondents around the world to provide industry intellegence on established and emerging markets, key companies and industry players, business insights, and essential statistics. Subscription required: www.ibinews.com/subscribe