State funding to support career technical education in the marine trades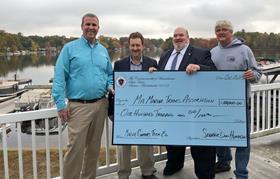 The Massachusetts Marine Trades Association (MMTA) has been awarded $100,000 from the State of Massachusetts to support workforce development and career technical education in the marine trades.
The funding was sponsored by Senator Don Humason, Senate co-chair of the Massachusetts Boating Caucus and a long-time advocate for the boating industry. "This earmark will help connect our students in the schools with the jobs at the marinas," said Senator Humason. "We know there are openings in the marine trades industry that need to be filled and students looking for good paying, satisfying jobs."
The recreational boating industry in Massachusetts has an economic impact in excess of US$2bn while employing more than 11,000 people. The industry is currently facing a substantial workforce shortage, both locally and on a national level. Current estimates peg the number of marine industry openings within the state in the hundreds, with a projection of approximately 3,000 new jobs coming available over the next few years.
Established in 1964, the MMTA represents more than 1,000 marine businesses in Massachusetts. The organisation is actively involved in developing training schemes to promote careers in the recreational boating industry.