Bavaria will build day cruisers with outboard engines for the first time, taking over the successful Greenline Neo series from Slovenian SVP yard
German boatbuilder Bavaria Yachtbau GmbH has announced that it will add outboard motorboats to its current lineup of sailboats, inboard motorboats and catamarans with the addition of the Greenline Neo series, acquired from the Slovenian SVP Yachts Shipyard. The sale will be completed in March.
With this decision, the south German shipyard enters the fast-growing market for day cruisers powered with outboards. The announcement comes after the builder presented the world premiers of the new C42 monohull sailboat and SR41 motor-cruiser models at Boot Düsseldorf, which closed on Sunday – and just 16 months after the restart of the yard after it slipped into administration in April 2018.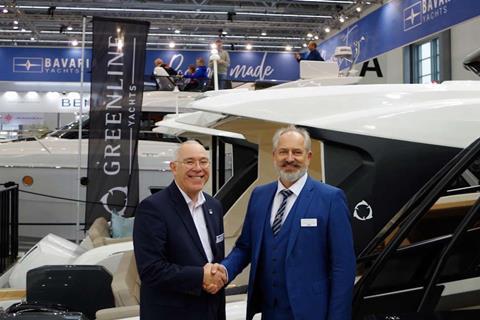 Behind the scences of boot Düsseldorf, Bavaria has contractually agreed to acquire all rights to the Neo concept, including construction rights, the moulds and production tools from SVP yachts. This arrangement helps Bavaria meet the high expectations of the industry and its customers to present new models only one year after the relaunch of the business.
In departing from its focus on family and charter boats, Bavaria takes over over an already existing and successful series: the Greenline Neo series was one of the most recognised new boat series in 2018, being a finalist of the Best of Boats Award presented during the Berlin Boat Show. The first model of the new line will be produced at Bavaria's shipyard in Giebelstadt, in southern Germany from September onwards.
Greenline is thus simultaneously focusing on significantly larger motoryachts. As separately reported, the Slovenian builder had a successful 2019 and presented the 5G H-Drive – the latest version of its hybrid drive system with flexible battery add-ons – last week at Dusseldorf.
Adaptation of the Neo to the "Bavaria-DNA" expected
Until the start of series production in September, the development team of Bavaria Yachts will tweak the new series to its production concept. According to the German shipyard, deck and interior are to be "optimized and adapted to the Bavaria DNA". The day cruiser is to be offered with two outboard engines with 300hp and Bavaria plans to announce the brand name for the new day cruiser series in the spring.
In a statement to floatmagazin.de, a Bavaria spokesperson stated today the electric version of the Neo will not be continued by Bavaria Yachts. The last e-Neo units with Torqeedo Deep Blue outboard systems, are – according to insiders – already sold out.