UK firm makes acquisition through Lymington Marina subsidiary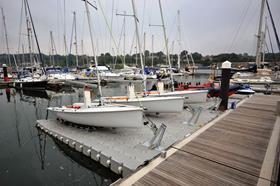 Berthon Boat Company in the UK has expanded its activities with the acquisition of Marine IP, which trades under the name of VersaDock, for an undisclosed sum. Berthon used its Lymington Marina Ltd subsidiary to make the purchase.
The acquisition came about after VersaDock made an approach to Lymington Marina, of which it is a tenant. VersaDock designs and creates modular floating pontoons and also represents Jetdock, which specialises in air-assisted floating docks.
"We are delighted to become part of the Berthon group of companies, which is well respected in both the commercial and leisure marine market in the UK," says Jamie Hooper, head of design and sales at VersaDock. "Berthon's wide experience should help us and I look forward to building the business up under the new ownership."
Brian May, managing director of Berthon and Lymington Marina, adds: "This is a good addition to our expanding product range, which this year has included taking on dealerships for Iguana amphibious boats, Pearl motoryachts, Gemini RIBs and Cox diesel outboard motors."
May told IBI: "We plan to continue selling VersaDock's premium products to both the commercial and leisure markets. There will be no jobs lost, but it is likely that another job will be created." He explained that VersaDock has a healthy order book. "With our balance sheet and established reach into both the leisure and commercial markets, we believe it is a symbiotic fit.
"Our intention is to continue working with the existing well-known and respected eponymous VersaDock branding. VesaDock's floating platforms are particularly good from an ecological perspective, allowing boats to be immediately accessible for owners but without the need for antifouling."
May said that the VersaDock acquisition was a simple way to add diversification and profitability to the company's bottom line while also complementing other recent brand additions to the Berthon stable including the Cox 300hp diesel outboard and Gemini RIBs.
As to Berthon, he said: "Having just completed our centenary anniversary in Lymington, this acquisition comes hard on the heels of our new office and workshops in Palma, Spain, where Sentinel Yachts, now known as Berthon Spain, adds vital in-house skills such as marine engineering, electrics and electronics along with painting, shipwright, gardiennage, and joinery expertise for owners either basing or selling their steeds from the capital of yachting in the central Mediterranean."
Berthon is a consistent supporter of apprenticeships. "Berthon has taken on 15 apprentices this year, which doubles the current cohort to 30 currently learning skills over a four-year period," said May. "More than 60% of Berthon's staff and employees started out as an apprentice. The current trailblazer frameworks, which replace the 40-year-old standards, are now very relevant to the modern skills needed by industry with modules that include spray painting, composites and even a business and RYA day skipper courses.
"There really has not been a better time for marine businesses to embrace the radically different apprenticeship landscape," May said. "Berthon continues to work closely with The Worshipful Company of Shipwrights which provides valuable first-year wage bursaries for marine SMEs not already training."