Kingfisher Boats parent acquires Vancouver Island-based yacht, workboat manufacturer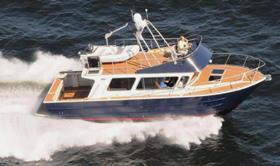 Canadian aluminium boat builder Bolton Marine Group announced this week that it has acquired Daigle Marine, a British Columbia-based manufacturer of welded aluminium yachts and commercial workboats. Terms of the transaction were not disclosed.
Under the deal, Daigle Marine will continue to operate from its existing facility on Vancouver Island as a wholly-owned subsidiary under the leadership of managing director, Torry Wannenwetsch. Founder Steve Daigle and former co-owner Bob Kristmanson will remain active in the business for an unspecified period as the business transitions to its new ownership.
Founded in 1985, Daigle Marine manufactures a diverse range of heavy-duty welded aluminium fishing boats, yachts and commercial workboats which are sold under the EagleCraft name. The company launched its largest custom yacht – a 53ft, $2.8m luxury sportfishing model for an American buyer – in August 2018.
Headquartered in Vernon, British Columbia, Bolton Marine Group is the largest builder of welded aluminium commercial, recreational sportfishing and adventure boats in North America. The Daigle business represents a complementary fit to Bolton Marine's existing product portfolio, which includes welded aluminium fishing boats sold under the Duckworth, KingFisher, Northwest and Weldcraft brands.