Privately held financial holding Oxbridge SE acquires controlling share in Jetten Jachtbouw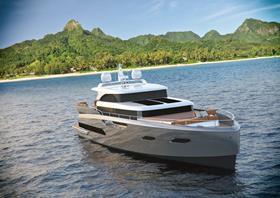 Beleaguered Dutch shipyard Jetten Jachtbouw today announced that it is 'business as usual', thanks to financial support from global investment firm Oxbridge SE. According to a company statement, Oxbridge has acquired a significant controlling share in Jetten Bommelaer BV, trading under Jetten Jachtbouw, as well as all the tooling, branding and Intellectual Property to certain product lines under a closed bidding.
Jetten's key management team will remain in place, with the addition of François Koopal as managing director.
Oxbridge SE is an important partner for Jetten, having made funding available for further development of the yard's current range of yachts from 38ft-58ft. Meanwhile, Jetten says it has a strong order book with work until mid-2020. The focus remains on luxury steel boats up to 15m, fast aluminium yachts up to 30m, and fully custom designs.
Oxbridge SE is a privately held financial holding with investments and participations in the UK, Malta, Monaco and Belgium. The group holds multiple interests in the luxury boatbuilding sector.
Jetten Jachtbouw has been building yachts in steel and aluminium since 1997, with more than 250 units supplied to the market. The company's financial troubles were made public earlier this year, when the Dutch press reported that Jetten was having difficulties paying its creditors.