Wilks' 2G synthetic teak range, Dek-King, will merge with the Flexiteek brand in late 2019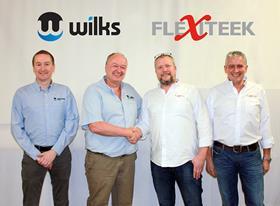 Flexiteek International, the Swedish producer of synthetic teak decking and 2G technology, has acquired UK-based Wilks for an undisclosed sum.
Wilks is a family-owned manufacturer and supplier of Dek-King synthetic teak decking and marine fendering. The company, which is based in Essex, has been producing part of the Flexiteek range for over three years.
"The acquisition of Wilks will provide a high-quality manufacturing base with research and development facilities. This will enable Flexiteek to continue to develop innovative and first-class synthetic decking systems for years to come," says Flexiteek CEO Tomas Gustafsson.
"We aim to incorporate the existing Dek-King network into our own; the Wilks marine fendering range can now also be supplied through our existing distributors worldwide."
Chris Berry, joint managing director of Wilks, is excited about the new partnership. "Going forward we will continue to focus on PVC extrusion and further developing the marine fendering range," he says. "Nothing fundamentally will change."
Introduced in 2000, Flexiteek is the original synthetic teak and developer of 2G technology, supplying a network of over 100 distributors across 40 countries. Wilks' own 2G synthetic teak range, Dek-King, will merge with the Flexiteek brand in late 2019.
Flexiteek says it plans to retain Wilks' manufacturing premises in Tollesbury, Essex, along with all employees.
The acquisition will facilitate the supply of synthetic teak and fendering to a list of OEM clients that include Royal Huisman, Hanse Group, Jeanneau Beneteau Group, Princess Yachts, Gulf Craft, Sunseeker International and X-Yachts.