The thermal imaging specialist said it was undertaking a restructuring program and a formal process to evaluate divesture of Raymarine's non-thermal maritime electronics business – a 'best in class' asset
US-based Flir Systems, parent company Raymarine, released fourth-quarter and 2019 year-end results today, showing revenue growth of 6% for the year up to $1.9 billion, and 9% growth for the quarter, compared to the same periods last year.
Full-year adjusted earnings (per diluted share) were $2.23 however earnings for the quarter were $0.55 per share, missing market estimates which expected approximately $0.62 per share – the same result the company posted a year ago. The earnings surprise of nearly -12% has sent FLIR's share prices tumbling to mid-morning trading of $44.10 - down 17% and close to a 52-week low for the company.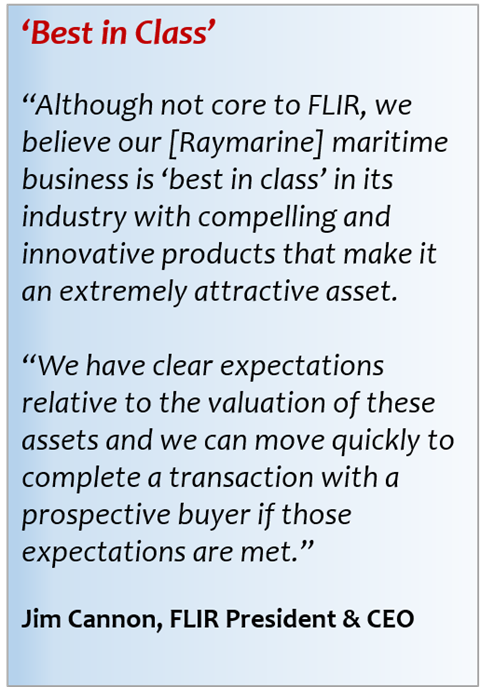 However, the biggest news for observers in the boating business was the company's announcement that it will be consolidating its Business Unit structure and has entered a formal process to evaluate divesture of Raymarine.
In the company statement, FLIR President and CEO Jim Cannon said, "To better position FLIR to deliver long-term growth through the execution of our strategic priorities, we have launched 'Project Be Ready'. This initiative aims to simplify our product portfolio and better align resources with higher growth opportunities while reducing costs. Through Project Be Ready, we have discontinued certain non-core consumer centric product lines within the Outdoor and Tactical Systems business and have entered into a formal process to evaluate divestiture of our Raymarine non-thermal maritime electronics business. The remaining businesses within the Commercial Business Unit will be integrated into the Industrial Business Unit beginning in the first quarter of 2020.
IBI continues to monitor the story and will be reporting further details.