Transaction strengthens group's presence in marine markets, including yachts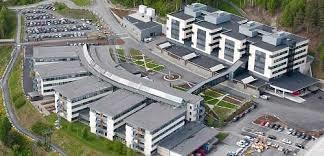 Around nine months after it announced the sale of its Commercial Marine division, Rolls-Royce (RR) today completed the £500m or so transaction to the Norwegian Kongsberg Group ASA. The division includes the links which RR had with the superyacht market, including vessel and system design capabilities related to propulsion systems. It does not include the supply of MTU engines.
Kongsberg, headquartered in Kongsberg, Norway, is an international, knowledge-based group delivering high technology systems and solutions to clients within the marine, oil and gas, defence and aerospace industries.
In a statement, Kongsberg said: "The purchase of Rolls-Royce Commercial Marine (RRCM), announced on July 6, 2018, has been completed today. Hence, Kongsberg's position as a world-class supplier of technology for the maritime industry has been strengthened."
As of today, RRCM is an integrated part of Kongsberg. The group has now become a more complete technology supplier, and has strengthened its competitiveness as a strategically important supplier for shipping companies, shipyards, as well as other customers and partners.
A broader product portfolio, complete solutions and increased volume of service assignments strengthens the position as a global leading technology supplier in the maritime industry. Today, Kongsberg Maritime's equipment is installed on more than 30,000 vessels worldwide.
While by far the majority of Kongsberg Maritime's activities are linked with commercial shipping, it does have a presence in the large yacht market. This includes the stabilisation-at-rest system that uses the proven Aquarius and Neptune ranges of retractable stabilisers and the AZP C65 steerable pulling thruster for medium to large yachts and it is the world's first to be made available with the benefits of retractable fins.
In respect of the AZP C65, Azimut-Benetti has introduced a superyacht to its range, which is specifically designed for propulsion by this system. The Benetti Fast 125' superyacht makes full use of the light weight, high power density and smooth running of these thrusters, each of which is rated at 2,500hp. The 38.1m yacht is designed around this propulsion system and is powered by two MTU diesel engines.
Geir Håøy, CEO of Kongsberg, said: "I have looked forward to this day for a long time. Together we are now well-positioned in the market, and our ambition is to lead the development of the future maritime industry globally in close cooperation with customers and partners. We shall be the ocean space expert. We have spent a long time planning and preparing, now the work of ensuring a successful integration begins."
With the acquisition of RRCM, Kongsberg is now represented in 40 countries, close to 11,000 employees and an annual turnover of more than NOK22bn (around $2.6bn). The purchase enhances Kongsberg Maritime's position as a global leader on automation, navigation and control systems, propellers, propulsion systems, deck handling equipment and ship design. Collectively the group will be a leading innovator in the maritime industry where sustainable solutions and digitalisation transforms the industry.
"I am looking forward to welcoming 3,600 highly-skilled new colleagues," said Egil Haugsdal, executive vice president of Kongsberg Maritime. "Together we will work for a fast and smooth integration of people, cultures, products, solutions and innovative work. Through world-class technology, customer focus, the power to innovate and the willingness to change, we will deliver the results we have promised."
The parties have agreed a value for Rolls-Royce Commercial Marine of £500m (on a cash and debt-free basis and with working capital at an agreed level). The final purchase price is determined based on Rolls-Royce Commercial Marine's cash, debt and working capital at time of completion of the transaction. The deal will provide RR with a net gain of £350m to £400m.