Swedish builder to take ownership of the Bella, Flipper, Falcon and Aquador brands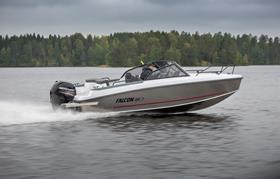 Brunswick Corp today announced that Sweden-based Nimbus Boats is to acquire its joint venture interest in Finland's Bella Boats. Terms of the deal are unknown, but the acquisition is expected to close before the end of the year. It will provide Nimbus with ownership of all Bella brands, including Bella, Flipper, Falcon and Aquador.
"This is a great opportunity for Bella and Nimbus to join forces to form a very powerful boating portfolio and with Mercury powering our vessels we are confident that this is an opportunity that will not only delight our customers, but also allow us to take advantage of the synergies among the different brands," says Jan-Erik Lindström, Nimbus managing director.
Brunswick's Mercury Marine has benefitted from its joint venture with Bella Boats, led by founder Raimo Sonninen, for the past 15 years. Bella will continue to operate as a strategic partner with Mercury under Nimbus ownership, and Sonninen will continue to support the business in an advisory role.
"Bella Boats has been a great partners for Mercury in key Europena markets," says Marty Bass, president of EMEA for Mercury Marine. "We couldn't be more excited about the opportunity to continue the Bella relationship through Nimbus. Nimbus and Mercury both share a passion for innovation and quality, and we are pleased that Raimo Sonninen will continue to be part of this arrangement through Nimbus."
Nimbus recently premiered three new models at the Ft Lauderdale International Boat Show – the Weekender 9, the Tender 9 and the Commuter 9. The Nimbus Weekender 9 has been nominated for the European Powerboat of the Year Award.