Polaris adds to marine portfolio with acquisition of fibreglass bowrider and runabout brand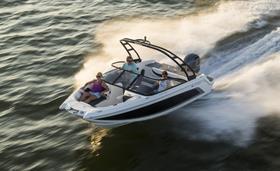 Minnesota-based Polaris Industries announced late Friday that it has acquired the Larson brand of fibreglass sport and fishing boats from Pulaski, Wisconsin yacht manufacturer Marquis-Larson Boat Group.
The sale, announced in a letter to Larson dealers from Larson-Marquis CEO Rob Parmentier, ends weeks of speculation that began in early December when Marquis announced that it would lay off 30 employees at its Pulaski plant as it prepared to divest itself of the Larson business in order to focus on its larger Carver, Lexus and Marquis yacht brands.
The Larson product line includes a range of fibreglass bowriders, sport boats, and fishing boats sold under the Larson and Striper brands, as well as an aluminum pontoon line sold under the Escape banner. Production of these models is expected to move to the Polaris-owned Rinker Boat production facility in Syracuse, Indiana starting immediately.
Polaris re-entered the recreational boating industry in May 2018 when it acquired Boat Holdings LLC, representing the Bennington, Godfrey, Hurricane and Rinker brands, for a reported US$805m.