Two CANbus display technology specialists come together under Veethree Group brand
Two global leaders in CANbus display technologies, Veethree Electronics & Marine (VEM) LLC and CANtronik Ltd, will complete their merger into one brand under the name of 'Veethree Group'.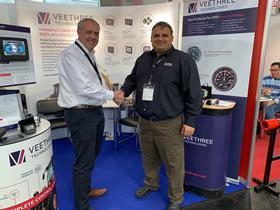 VEM LLC has been predominantly manufacturing and selling traditional gauges, dials and digital displays from the US to customers across the globe since 2003. CANtronik, formed in 2007, are specialists in software development and manufacturing of digital displays. In 2017, the shareholding of CANtronik Ltd was sold to the Directors of VEM LLC having identified the opportunity to enhance the group's software capabilities and gain a foothold over the European market.
Now as part of the Veethree Group, CANtronik Ltd will be rebranding as Veethree Technologies and will house the software team providing software for Veethree Group's range of gauges, displays, engine monitoring units, and digital switching modules. VEM will also update branding as Veethree Electronics and will be primarily responsible for manufacturing these range of products.
James Cope, Sales Marketing manager for Veethree Technologies said "We're extremely excited by the opportunities this new merger will bring for everyone involved. This synergy will develop each brand under the Veethree Group name as we create new innovations and meet more customer needs across the globe."

Over the last two years, both companies have worked diligently from either side of the 'pond' to ensure a successful cohesion as Veethree Group. The new brands will now serve customers over six continents and 35 countries, operating in the aerospace, automotive, industrial, marine & military markets.
Shekhar Tewatia, director of Veethree Group said "Central to our merger has been how VEM LLC and CANtronik LTD can come together as Veethree Group to complement our present services and provide our existing customer bases with a greater choice to meet their specific needs.