Construction of Paralimni Marina begins, but Paphos further delayed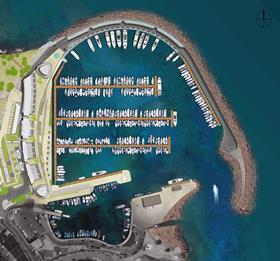 The latest information about the progress of Cypriot marina projects shows that there are mixed fortunes for them. While construction has started at the Paralimni Marina development, the facility planned for Paphos faces further delay.
In respect of Paralimni Marina, the Cypriot Department of Fisheries and Marine Research has indicated that construction has now started. Marina Projects Ltd, the UK consultants involved in the €110m project, reports that environmental survey work and the completion of some 18 offshore and five onshore boreholes is now well underway.
In a press statement, the company says: "With the masterplan completed and formally submitted to the authorities, Marina Projects is working closely with the design team to bring forward the detail of the residential properties, yacht club and the marina. Engineers are utilising data captured by wave buoys and current meters now deployed at the site to complete numerical and physical modelling to be used in the design of the main breakwater. The predicted significant wave height that the breakwater must withstand is approximately 5m."
Paralimni Marina will be the first dedicated leisure marina to be located on the Protaras coastline and will benefit and support the growth of nautical tourism in the region. The scheme is a mixed-use waterfront development incorporating 195 apartments, 27 commercial units, a yacht club and visitor facilities together with a 300-berth marina for vessels up to 25m (82ft) in length.
The marina is due to be fully operational by mid-2021 and will be managed by PMV Maritime Holdings Ltd under a 125-year concession. Located on Cyprus's east coast, the marina is being developed through a partnership between PMV Maritime Holdings Ltd and J&P (Joannou & Paraskevaides), Marina Projects Ltd, and Nicolaides & Kountouris Metal Company.
With regard to the west coast project at Paphos, according to Cypriot Property News the company that was developing this new facility, Pafilia, has withdrawn from the marina scheme. Pafilia had expressed interest in a tender to design, build and operate the planned 1,000-berth marina and its 42,000sq m upland development of commercial and residential facilities.
It is reported that the delay in awarding the tender has caused an investor to withdraw their interest. This project has a history over the last 10 years of delays caused by planning issues and other related regulatory upsets.