Beneteau Group kicks off rain-soaked Cannes show with announcement of new boat concepts and models
New Beneteau Group CEO Jérôme de Metz kicked off an unusually wet and cold Cannes show yesterday morning, announcing a host of new launches, as well as a new flybridge concept to join the Prestige line.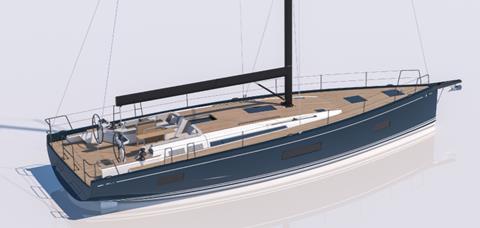 Proclaiming his new role as being one principally of bringing together the diverse brands within the Group portfolio, de Metz told the audience his first three months as CEO had been spent assessing and tweaking the Group's strategy, a process that was ongoing. Details of just what that 'tweaking' looks like are under wraps for now - de Metz described the structural realignments as a "work in progress", preferring instead to focus on the 34 models being launched at the show across its 12 brands.
The builder has 58 motor and sailing yachts on display at the show, including 12 world premieres. Among the new models being announced at Cannes are the new Swift Trawler 41 and Monte Carlo 52, from Beneteau; a new Sixty 7 powercat from Lagoon; a new generation of Monte Carlo Yaxchts comprising the MCY66, MCY70 and MCY76; three new Prestige models – the 420, 420S and 590S; as well as a new Merry Fisher 1095 Fly and Cap Camarat 12.5 WA on the dayboat side.
Of particular interest was the announcement of a new X Line concept in the shape of a new Prestige X70 that will make its debut at Cannes 2020. The concept involves blending the living areas inside the boat together and features what the Group describes as an "infinity cockpit". The boat features a distinctive wide body over the entire length of the vessel.
The builder also announced a new generation of MCY models with enclosed flybridges. Work has already begun on a 70-footer and the range will run from 66-80ft.
On the sailing side the Group announced a new First Yacht 53 and Oceanis 30.1 from Beneteau; a Lagoon Sixty 5; two Excess models – the 12 and 15; and from Jeanneau the Sun Fast 3300 and interestingly a new concept in the form of the Sun Loft 47. The builder described the new Sun Loft as a "multihull concept squashed into a monohull", with the boat designed specifically for use by groups of up to 12-14 people on charter with the day living areas all open and on one level.