With just three days to go until the nomination deadline, those finalising their entries should see our quick guide on how to make the very best entry for the Boat Builder Awards 2022, to take place on Tuesday, November 15 at the Maritime Museum in Amsterdam
The clock is ticking on making sure your brand is front and centre at the industry's signature gala event, the annual Boat Builder Awards, organised by IBI and METSTRADE and held in association with Raymarine. With just five days to go until the nomination deadline, we ask non-voting secretary for the BBA, Kim Hollamby, to tell us what it takes to make a successful Boat Builder Awards nomination. He provides answers to many of the common questions that entrants have asked since he was appointed in 2017.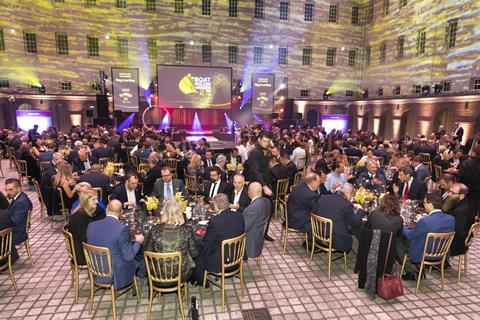 BBA FAQs:
What basic steps will give my entry the best of chances?
The judges understand that you will always believe your boat, design, product, innovation, or person is the best. Please help them to understand why by providing plenty of fact-based information to support your claim.
The judging is predominantly undertaken online. All Boat Builder Awards judges are fluent in English, but some have that as a second language. Absolute clarity of nominations is vital.
Please include:
a very clear explanation of what is being entered; and
an easily understood statement of why it should win.
What else can I do to help the judges to understand my nomination?
The judges all have technical skillsets. Their understanding of the nomination works best if they are provided with logical information rather than subjective marketing-led statements.
Facts, particularly evidence-based ones, will always be welcome. Videos and relevant accompanying information will be considered carefully in addition to written statements. It should be easy to add these to the entry portal. If you have any problems submitting material, please email boatbuilderawards@ibinews.com for assistance.
Where can I obtain guidance on the exact requirements for each category?
Please read the terms and conditions here – https://www.ibinews.com/bba2022/enter-now/terms-and-conditions
Should you have any questions at all please email boatbuilderawards@ibinews.com and we will be pleased to clarify the conditions for you.
How much does it cost to enter the Boat Builder Awards?
There is no charge to enter.
How many nominations can I make?
You can enter as many times as you like, but each entry must be unique and not a duplicate. No merit will be given to multiple entries for the same nomination (ie the judges will not consider multiple entries as 'votes').
You can enter the same boat or initiative in multiple categories provided that the nominations comply with the terms for each category. Nominations must offer relevant statements and information for each category (ie not duplicate entries posted against multiple categories).
Will the judges physically examine every entry?
Our judging panellists are selected in part because of their wide exposure to the industry and hence it is likely they may have viewed boats, equipment and facilities that are nominated. This helps inform the process during our judgement meetings.
For this year we have also asked a specific question about whether your entry, if applicable, will be appearing in the early Autumn 2022 boat shows so that we can notify our judges in case they can make an informal visit to your stand or boat.
Please do not rely on this, however. The judges will primarily make judgements based on your online entry and its accompanying submissions and videos to make their decisions.
Does the Boat Builder Awards favour larger boat builders and shipyards?
Not at all. Some companies may seem to feature regularly but this is most likely because of of the frequency and type of nominations made for those businesses. Every qualifying entry is judged on its own merits, from micro businesses right through to global conglomerates. It's a key objective of the Boat Builder Awards to raise the profile of best-of-the-best nominations from the worldwide sector.
It's also worth noting that since we launched the Boat Builder Awards in 2016, we have recognised the efforts of several fledgling companies who have gone on to become much more widely recognised in the marketplace.
Is there any benefit in entering early?
Entries close on 28 September to give the judges a reasonable amount of time for consideration. We will however start supplying them details of advanced entries by mid-August. Having an early entry is no guarantee of success, but it will provide judges more time to consider the full details of your nomination.
Does your system auto save my entry as I go along?
No, there's no auto-save and the only time your entry is registered on our database is when you press submit. We suggest preparing your entry offline and then submitting it in one session.
If you prematurely hit submit and need to resubmit the whole entry, then please do so. In the event we see duplicate entries we will typically take the latest one as the nomination for consideration.
Can I check if my entry has been received?f
You will receive an automated confirmation email with details of your entry after submission. Do please check your spam folder just in case you cannot find it. If in any doubt, please contact us at boatbuilderawards@ibinews.com.
I think I made a mistake – can I amend my entry?
Yes, nominations can be amended up until 28 September if required. To do so, please check the entry you made on the confirmation email we sent you. If you do need to make an amend, please send the corrections to boatbuilderawards@ibinews.com.
Do I need to exhibit at METSTRADE to enter the Boat Builder Awards?
No. Many of the companies who qualify for Boat Builder Awards nominations are more likely to be visitors to METSTRADE than exhibitors – entry is completely open to all qualifying businesses and individuals.
I am an equipment manufacturer or a boat designer – can I enter the Boat Builder Awards myself?
Anyone can make a nomination and nominations are free.
There are two specific categories where a business in the marine equipment sector can directly nominate itself – Collaborative Solution between a Production Boat Builder and its Supply Chain Partner (sponsored by Ultraflex) and Collaborative Solution between a Superyacht Builder and its Supply Chain Partner. In each case you will be jointly nominating yourself and your boat manufacturer partner.
Designers and design houses can similarly nominate their efforts in the Designer of the Year category.
For all other award categories, nominations must be for a boat building business or its employees. Don't forget though that you can make nominations for the boats and processes that you have had input on and the people you are proud to work with. Your nomination will undoubtedly benefit the nominee as well as your own company if it progresses to be shortlisted.
Where can I enter?