Dallas Ladd will serve 30 days in federal prison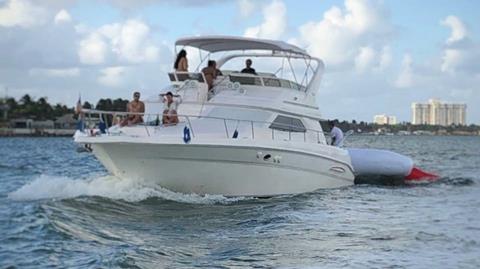 Dallas Ladd will serve 30 days in federal prison as the result of an illegal charter operation he ran, despite US Coast Guard warnings to cease and desist. The 38-year-old Miami Beach, Florida resident is also prohibited from owning or even boarding a boat for three years after his release, according to the Miami Herald.
In February, the Coast Guard boarded the 45ft Sea you Twerk for a routine inspection and found multiple violations, including the boat not having a valid Certificate of Inspection and not having a "credentialed mariner" in control of the vessel.
Ladd was issued a Captain of the Port Order to cease operations in early March, and then a few weeks later the Sea you Twerk was boarded by the Coast Guard on Biscayne Bay because it appeared to be overloaded with people. The Coast Guard found 36 individuals on board.
Court records indicate Ladd told crew members that if asked, they should tell officials that no one had paid to be on the boat. Ladd was not issued a violation at the time.
A few days later, an undercover law enforcement team tried to charter the boat from Ladd, who told investigators that the deal had to be "under the table," and that if the Coast Guard were to board, everyone had to "say we're all friends and nobody paid," an investigator wrote in the criminal complaint. Ladd agreed to charter the boat for US$1,500.
The boat was stopped one additional time in April, when again, Ladd told Coast Guard officers everyone aboard was a personal friend.
Ladd pleaded guilty to violating the order in August.
The Coast Guard has been cracking down on illegal charter operations through the US, but with a heavy emphasis on popular boating states like Florida.