Bavaria MD Ralph Kudla discusses the German yard's new direction, new boats and plans for growth
After the takeover of Bavaria Yachts by private equity investor CMP in October 2018, the situation at the German shipyard has stabilised. Production is running at full capacity again, and Bavaria plans to present its current models at boot Düsseldorf 2019.
After the surprising insolvency in April 2018 and an even longer-lasting bid thriller, CMP bought the boat manufacturer for a double-digit million euro amount. The new management announced in October that they wanted to return to the successful concept of manufacturing inexpensive family boats. A further two-digit million euro amount is planned for investment over the next year for this purpose.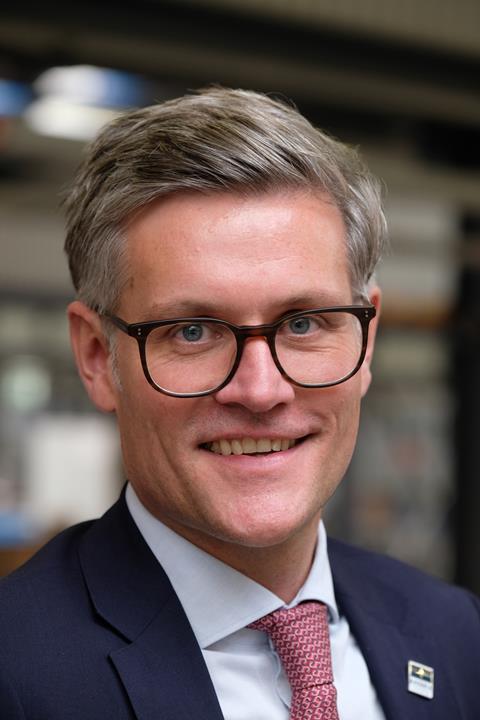 In an interview with floatmagazin.de, managing director Ralph Kudla, a CMP shareholder and experienced company restructurer, talked about the current status of Bavaria Yachts, the upcoming boot Düsseldorf show, and plans for the shipyard's future.
Q. How has the situation at the shipyard in Giebelstadt developed since the takeover by CMP?
A. The situation has developed very well and as expected. That's not something that can be taken for granted. We remain very satisfied. The order books are so full that we also need additional personnel. We have more than 50 temporary production employees back on board, and we want to – and will – continue to recruit in other parts of the company as well.
Q. So, in addition to its core workforce, Bavaria is again employing temporary workers who had previously been let go?
A. We have taken on 550 employees and are now over 600. During the peak season, we always have temporary workers for production who cannot be employed all year round. With more than 50 temporary workers, we have a very healthy mix .
Q. What about capacity utilisation at the moment?
A. To put it bluntly, we started from scratch in September. As of today, there are more than 100 boats in production at the shipyard in various stages, from lamination to delivery. Every position is occupied in the deck pre-assembly area. Production belts 1, 2 and 3 are fully occupied. If you visit the factory today, you can hardly see a difference from pictures taken one and a half years ago.
Q. As a restructuring expert, you know a wide variety of industries and companies. How do you see Bavaria against this larger background?
A. When restructuring, it is always important that there is a healthy core, and this core is clearly present at Bavaria – with a very strong brand. It may have suffered a few scratches, but the company continues to be very, very strong. This was key to our well-considered investment decision. It is also very important that today we have a solid, slightly growing market in the leisure boating industry. There is currently no disruption in this market.
On the topic of production, some things have been neglected in recent years. Too much complexity was introduced into the company. We are now trying to reduce this complexity by focusing on the shipyard's strengths. This includes the size of the boat models which we offer. They ideally fit into the Giebelstadt plant and not beyond. This puts us in a range from 30ft up to almost 60ft.
Q. What is specific to restructuring a shipyard and how do you proceed?
A. Every company is individual, and every industry is special. But the topics are always similar: it's about strategic realignment. It's about the product range that has to meet market needs. And it's about increasing production efficiency. However, the instruments for this do not differ in a reorganisation or "normal" company development.
The product range is currently somewhat too broad, which causes problems in production. It is therefore important to make decisions to phase out older boat models and introduce new products. This is what we are working on.
Much more important in a crisis situation is that the people who work here are taken into consideration and motivated. This is one of the biggest challenges – especially after 10 years with a certain disorientation. To achieve this, we also involve middle management.
In addition, we have founded the Bavaria Dealer Advisory Board to show our customers how we work and what we are working on – to gain confidence in the changes underway at Bavaria. We are taking a different approach than the previous private equity owners.
For the restructuring, it is also essential that the company is completely debt-free. Bavaria's previous owners carried high liabilities since 2007 which burdened the company. This had to be addressed.
Q. What does the current model range look like?
A. We didn't continue the E line. This eliminates some complexity in the production. We have a Bavaria Sport 29, Sport 30 and Sport 32. It is important for us to get feedback from the market on our models at the upcoming boot Düsseldorf trade fair.
We are not presenting a completely new model range, but logically all models have been worked on continuously. So the electronics have been improved. Also, sailboats in the Cruiser line are now all manufactured with vacuum infusion. All Bavaria models come with the latest generation of engines.
The boats which were introduced in Düsseldorf in 2018 now have their first year of production behind them. They have been used under real conditions, and the experiences arising from this have been incorporated into smaller conceptual improvements.
Q. Speaking about boot Düsseldorf 2019, how will Bavaria present itself at this key show without new models?
A. It would not be realistic to introduce new models after the events of the summer. Now it's time to regain confidence and show that we are present. First of all, we want to listen to what is needed by the customer. Boot Düsseldorf is very important for that.
We will have 16 sailing and motor yachts on display, so we will have a good overview of our range. Last year the Bavaria C 45, the C 50 and the R 55 were world premieres. In addition, a Bavaria 707 from 1978, the founding year of the shipyard, will be displayed in retro-fit, along with a Nautitech 40 Open.
We will start at Düsseldorf with a new and exciting communication campaign. It will show exactly what Bavaria is all about today.
Q. What is your strategy for new boat models, in terms of time and boat types?
A. We will be able to show new models in Düsseldorf in 2020. We are sticking to the idea that from this moment on we will introduce two to three new models each year. The Cruiser line and also the Sport line will thus be gradually adapted.
Q. What has the response been since the restart? What are you hearing from your customers and dealers?
A. There has been consistently positive feedback. Not a single dealer has been lost. The customers are ordering – so we have started as expected. The order books are well filled and the newer models are very well received. Otherwise we wouldn't have more than 50 temporary workers back in production again.
We only manufacture when the down payment on the boat has been made. And the down payments have been made, so there is trust again. This shows me – and this is in line with our expectations – how strong the Bavaria brand is. In addition, we keep a promise: The delivery dates are kept.
Q. If I order a sailboat or motorboat from Bavaria at boot Düsseldorf, could I have it delivered this season?
A. It varies from boat to boat – partly yes, partly no. In comparison to our competitors, who continued normally last year, we can certainly still offer something but not as much.
Q. There is the argument with regard to leisure boating industry that a shipyard cannot be successful without new models. What is your opinion on that?
A. No shipyard can rest on old models – even a successful model – over the long run. New models are expected in this price segment. If you look at motorboats, there are clear trends such as outboard motorisation. Our R&D department is addressing this. With two to three new boat models per year, we will always have a current model range to successively introduce.
Q. You are not worried about 2019?
A. No, I am not. You have to remember that we lost six months – from April to September 2018. Basically, we feel like it's spring now. For instance, take the Bavaria C 45 or the C 50, which were presented last year in Düsseldorf - these are brand new models. There were only a few boats in the field and there were hardly any press tests. This is where we are now; picking up where we left off. Now we are ready to deliver and the boats will be available after the show with reasonable delivery times.
I am convinced that the expectation from the market is not that Bavaria will present something new now, but that we will deliver reliably again. That's what we are focusing on. At the same time, new product developments have been initiated, and they will come soon!