NMMA president Thom Dammrich to retire from his post in September 2019
The International Boatbuilders' Exhibition & Conference (IBEX) opened today in Tampa, Florida, with the induction of NMMA president Thom Dammrich to the National Marine Manufacturers' Association (NMMA) Hall of Fame and the announcement that Dammrich will retire from his post in September 2019.
"They have always said 'you'll know when it's the right time', and it's the right time," Dammrich told IBI Monday in a pre-show interview. "I'm looking forward to more time with my family and not having to run quite as hard, but I've enjoyed every minute of it."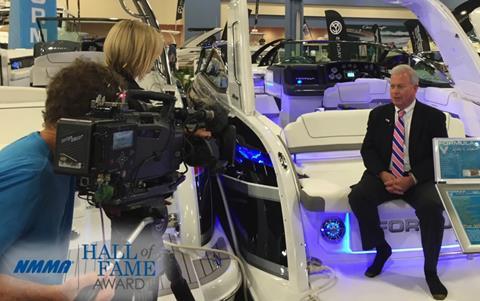 During his nearly 20 years at the helm of the recreational boating industry trade group, Dammrich cites two notable challenges: The 'Great Recession' which began in 2007/08 and the move of portions of the Miami International Boat Show to the Miami Marine Stadium.
"The move of the Miami show to Virginia Key was probably the most stressful experience of my life," Dammrich said. "A lot of people thought it was an ideal location but there were concerns about traffic and moving people [on and off the island], which we're still working on. We invested millions of dollars into a maintenance traffic plan to avoid local concerns, and in the end, it wasn't nearly as bad as anticipated."
What was bad, and worse, according to Dammrich, was fighting through the economic downturn. "NMMA, like many companies in our industry, saw our revenues cut in half. We had to reduce staff by 40% to 45%. It was painful," he said.
During his tenure, Dammrich is credited with leading NMMA to become the world's largest producer of boat and sport shows, as well as building awareness and interest in recreational boating among the public.
Dammrich guided efforts to bring back a unified marine industry trade event with a merger between NMMA's Boatbuilding trade show and Professional Boat Builder's IBEX, which is now the largest technical marine event in North America. Most recently, he created a strategic partnership for IBEX with the RAI Amsterdam, opening the show to a global audience of marine professionals.
"Thom's leadership at NMMA has helped the industry navigate economic, market and social challenges. He has been the voice both across our industry and outside of it, bringing together a fragmented industry at a critical time," noted Mark Schwabero, chairman and CEO of Brunswick Corp, in an NMMA statement.
A search committee made up of NMMA board members will hire a search firm this autumn and begin the process of identifying Dammrich's successor, who should be in place by July 2019, and assume the role of president 1 October 2019.