The European Boating Industry association (EBI) is set to tackle boating's toughest challenges.  IBI Chairman Nick Hopkinson interviews Jean-Pierre Goudant, the group's new president and formerly part of the senior management teams at some of industry's largest companies
NH As the new President of the EBI – having taken up your role on the association's recent 10th anniversary – what do you feel have been its major achievements?
It is an honour to have been elected President in June and represent our great industry. My record however goes back to 2013 when I started as a Council member and I have seen the organisation grow and develop. Some of our major achievements have included the successful revision of the Recreational Craft Directive (RCD), the first-ever EU study on our industry's competitiveness and nautical tourism, as well as our participation in various trade negotiations. Above all, however, is the positioning of our sector at the heart of the EU's political landscape, which provides us with access to the EU institutions and the opportunity to be consulted before policy becomes reality.
NH What were the main reasons behind the establishment of the EBI in 2009 and who were the principle people and marine industry associations (MIAs) involved with its foundation?
There were two organisations prior to 2006, which united to form EBI in 2009. The members taking the first initiative to form the European Confederation of Nautical Industries (ECNI), later leading to EBI, were the Fédération des Industries Nautiques (FIN) from France and NAUTIBEL from Belgium, followed by Bundesverband Wassersportwirtschaft (BVWW) from Germany and then Confindustria Nautica (UCINA) from Italy. The first president of ECNI was Annette Roux from FIN.
The first elected President of EBI was the Dutch boatbuilder Fritz Conyn followed by Robert Marx from Germany. The founding MIAs were ANEN (Spain), BMF (UK), BVWW, FIN, FINNBOAT (Finland), HISWA (Netherlands), NAUTIBEL, NORBOAT (Norway), SWEBOAT (Sweden) and UCINA. It was then formed as an international non-profit organisation in Belgium (AISBL). At that time, Mirna Cieniewicz joined EBI as our first Secretary-General and developed our current structure and an efficient organisation.
The aim of EBI then and now is to represent the interests of the European industry at the EU level. A good example of how we do this was our recent anniversary event in Brussels where we brought together several Members of the European Parliament, the European Commission, the World Wildlife Fund and more key people to discuss how the EU institutions can shape our sector in a positive manner. However, just as much daily work goes into these lobbying efforts and takes place via meetings at the European Parliament and European Commission along with many other activities to make our voice heard.
NH Who are the current members of the EBI and what is its management structure?
We currently have representation from many of the major associations in Europe. These are currently NAUTIBEL, CEA representing Croation, the Association of Estonian Marine Industries (AEMI), FINNBOAT, FIN, the BVWW, UCINA , POLBOAT from Poland and Spain's Asociación Nacional de Empresas Nauticas (ANEN).
In addition, we are proud to also have individual companies as sustaining members: RACEIX, Enaviga and boot Düsseldorf.
The Council sets the overall strategic approach of EBI. Most of the Council members are CEOs or Secretary-Generals of our member organisations and are therefore actively involved in the business. The Council has five members who were elected in June 2019. Our work is coordinated together with our Executive Committee – in which all our members are involved – to discuss strategy and provide input to policy developments on an equal footing.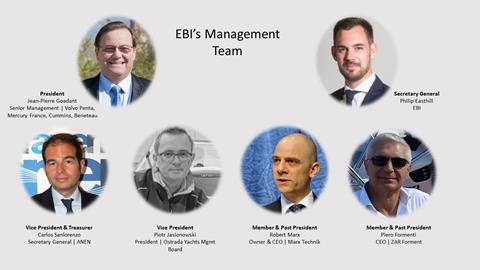 The EU lobbying and management of the association is led by our Secretary-General. We were delighted to welcome Philip Easthill to this position in September 2019. He has a real passion for our sector, being an experienced sailor and boater himself, and brings experience as a lobbyist as well. He is a great advocate for our sector and is putting us on the political agenda at EU level.
NH What will be the key objectives of the EBI for the next 5 years? Which projects will be prioritised?
In essence our mission is simple: defend and promote the recreational boating industry in Europe. This is based on the conviction that if you are not at the table, you are on the menu. Being represented in Brussels and ensuring that our sector is clearly heard in the EU institutions is therefore our key priority.
Our anniversary event stood under the theme of economic and environmental sustainability and this will continue to define our second decade as organisation. We want to ensure that our sector can sustainably grow, and our work positively impacts businesses. This is how we set our priorities.
"If you are not at the table, you are on the menu."

Jean-Pierre Goudant
This will be done by promoting policies leading to a stronger Single Market to ensure that the products produced in our sector can be easily exported, such as the Recreational Craft Directive that is now being reviewed. We also want to ensure that those working in our industry can easily do so across Europe without difficulties in having their qualifications recognised. We also promote trade agreements that make exporting easier for our sector, as well as advocate against trade barriers and tariffs harming our sector. We are also an ally in the fight for clean oceans and against climate change, which are major issues for our sector in the coming years and we will proactively contribute to policy in this area. A key priority will be the review of the Recreational Craft Directive in the next years and working for consistency in a European approach for end-of-life boats.
These are only examples, but we are sure that by being a membership-driven organisation, we can be close to the industry and promote policy that positively impacts business. Our industry needs a long-term and stable framework for investment, innovation and growth and we are working towards this. Our approach is guided by our strategic roadmap for the period 2020 to 2024, which matches the mandate of the EU institutions.
An important element of our work are also events, where we bring together the EU institutions, business leaders and key stakeholders to discuss the major issues for our sector. An example of this is the International Breakfast Meeting (IBM) that we organise with and at boot Düsseldorf on 21st January. This has rapidly grown over the past years and is now in its 5th edition and we welcomed over 150 participants in 2019. Topics we have looked at in the past were:
The charter business
Developments in leading and emerging markets
Attractiveness of the boat market for newcomers and best agers
Overall competitiveness, challenges and trends in the boat market
Our topic for 2020 is sustainable boating where we are delighted to have confirmed the participation of the European Commission at a high level to present the European Green Deal, as well as innovators and entrepreneurs from the field of hydrogen, hybrid and electric engines.
Another event that we are delighted to be involved in for 2020, is The Economist Sea Tourism Summit in Dusseldorf on 17th January, which we are sponsoring. This will bring together high-level representatives from government, politics and business, as well as prominent officials from EU and international institutions to discuss the key issues for our sector in the coming years. This will be another avenue for us to engage with the new EU institutions.
NH Do you have links to other industry organisations apart from your core membership?
ICOMIA – the International Council of Marine Industry Associations – is clearly our most important partner, and we are delighted to have recently renewed our cooperation agreement with them. We are already filling this agreement with life and closely working together at both European and international levels, which best serves our industry and makes it stronger than its individual parts.
Our international cooperation also extends to other organisations, such as our US counterpart the National Marine Manufacturers Association (NMMA) as well as other MIAs across the world. We cooperate closely with NMMA and ICOMIA as we are convinced that our European industry needs a transatlantic approach. Our view is that mutually beneficial economic growth is achievable through tariff elimination, simplified certification procedures and internationally harmonized standards.
It would go beyond this interview to name all cooperation with other industry organisations, but this engagement is our core ethos and vital for our lobbying. To give some examples, we work closely with the European Boaters Associatoin (EBA) as the voice of recreational boat users, and with other industries impacted by end-of-life issues, such as the wind energy sector. We have recently also increased our collaboration with the recreational fishing sector, which we believe is strategically important as this is an important segment for our sector. Our focus is however on all sectors, organisations and Non-Governmental Organisations that are active at EU level regarding topics relevant for our sector.
At EU level, cross-sectoral coalitions on individual issues are becoming increasingly important and this also goes for EBI. We are a member of the Industry4Europe coalition, consisting of 149 industry associations calling for a strong industrial strategy for Europe and also the Tourism Manifesto that brings together the major tourism sectors to promote tourism-friendly policies.
NH What are the key discussions you are having with the EU administration in Brussels concerning the future of the boating industry?
With new EU institutions now in place after the recent European election, there is a lot of scope for a fresh start on many issues. The next months will be crucial for this and we expect a lot of movement on various issues, including trade, climate change, a new strategy for small and medium-sized enterprises and industrial leadership to name a few. Our focus is to bring our sectors' perspective into these discussions, as well as on the review of the RCD and trade relationship with the US. This work has already started and will accelerate in the next weeks and months. As mentioned earlier, we are a keen promoter of a strong European approach to the key issues for our sector that can have a positive impact for the companies in our sector.
The recreational boating industry is strongly impacted by EU legislation and the development of the Single Market over the last decades. We therefore promote the extension of the Single Market for the industry, which is highly internationalised with exports at a European and global level. The European Economic and Social Committee (EESC), an EU institution and consultative body in the policy-making process also adopted an own initiative report on nautical industries in 2013. The report, entitled 'Nautical industries: restructuring accelerated by the crisis', identified the obstacles to future growth in the sector and calls on the European Commission to create a genuine single market for boating.
NH How do you view the prospects for the boating industry in Europe over the coming year and what do you feel are its greatest challenges?
At political level, the key challenges are certainly the trade war with the US and the Brexit discussions that will soon move towards the question of an EU-UK trade agreement. Our role is to advise policy-makers on how to avoid negative impacts on our business, as well as the hundreds of thousands of employees in our sector.
On the economic side, growth is slowing globally, and this will potentially affect our sector, but we do not see this yet for 2020. We are now almost exactly ten years after the economic crisis, which many countries relevant for our sector, have only been able to get past in recent years. We are delighted that our sector has been able to grow in all countries and taken on new employees and invested substantially.
The consumer perspective is however also important to take into account, as we are clearly seeing a move towards digitalisation and the sharing economy as well as an interest in the environmental impact of their leisure activities. These are all challenges for our sector, but the innovation we are already seeing will accelerate and ensure that boating will remain an attractive leisure proposition.