Former Gulf Craft CEO joins French builder with immediate effect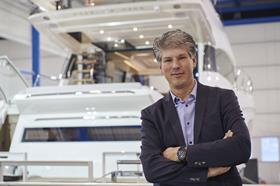 On November 1st, 2018, Erwin Bamps joined the Beneteau Group as CEO of Prestige, reporting to Jean-Paul Chapeleau, general manager of Jeanneau and Prestige.
A Belgian national, Bamps started his career in Asia at an electronics engineering firm before moving to the UAE. In 2002 he joined Gulf Craft, the major Middle East boat manufacturer, in a consulting role before becoming COO and finally its CEO before leaving in mid-2018.
Over the last 16 years Bamps has been a key driving force behind Gulf Craft's development, especially in the Middle East and Asia. Bamps worked closely with Gulf Craft chairman Mohammed Al Shaali and was instrumental in the transformation of Gulf Craft from a regional leisure boat builder to a major player in the global marine industry producing superyachts up to 175ft.
Bamps not only promoted the Gulf Craft brand all over the world, but with a strong and charismatic personality became a well-known and respected ambassador for the boating industry in the Middle East and Asia over the last 16 years, a role he will no doubt continue in his new position with Prestige.
Created over 20 years ago, Prestige is present worldwide thanks to its network of 200 dealers and its range of 13 motoryachts from 42ft-75ft. The brand is widely recognised in Europe and North America.
According to a statement from Prestige: "Erwin Bamps will lead the brand's development in the Middle East and Asia, while continuing to strengthen its luxury position across all markets."
"I firmly believe that Erwin's industrial, sales and communications expertise, his leadership and knowledge of the highly exclusive large motoryachts market will enable him to achieve these goals," adds Jean-Paul Chapeleau, CEO of Jeanneau.