Russell Currie is leaving his position at the UK boatbuilder after three years at the helm
Russell Currie is stepping down from his role as managing director of UK boatbuilder Fairline Yachts after three years at the helm. He will be replaced by David Tydeman, Fairline's executive chairman.
According to a Fairline statement released today, Currie is returning to work for Fairline North Mallorca, his dealership in Spain.
"Over the past three years Fairline has reached its deserved place back on the world's stage and we thank Russell for helping us get there – he is a true Fairline ambassador," says Tydeman, who joined the UK builder in September.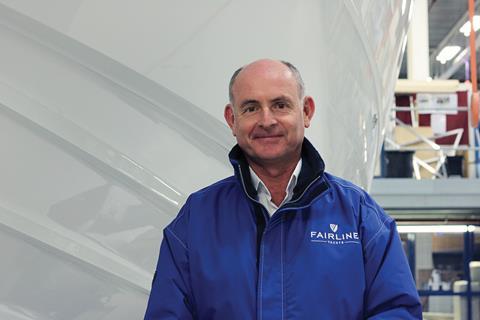 Under Currie's leadership, Fairline secured many significant achievements including winning two World Yacht Trophies for best exterior design for the Targa 63 GTO and Targa 43 OPEN, and receiving the Motor Boat & Yachting Judges' Special Award 2018 for 'the best turnaround of a business'.
Part of the boatbuilder's turnaround was the acquisition of a 200,000sq ft shoreside manufacturing site in Hythe, Southampton, which allows Fairline to build bigger boats.
"As we enter the next exciting chapter in Fairline's history, David's highly relevant experience means he is extremely well-placed to build on the success of Fairline Yachts and take us into the next stage of our growth plans," Currie says.