William Gaston has passed away at the age of 91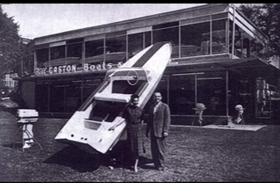 William "Bill" Gaston, founder of US sportsboat manufacturer Gastron Boats, passed away peacefully last week at his home in Austin, Texas. He was 91.
After obtaining a Mechanical Engineering degree from the University of Texas, Gaston attended a work/study program in Detroit, Michigan, resulting in a Master's in Automotive Engineering certificate from the Chrysler Institute. While at Chrysler, he spent 15 months working on a gasoline turbine engine project for the company.
Cold weather and lost love drove Gaston back to Texas, where he married Dusty Grigg in 1952, where they ran his parents' resort on Lake Buchanan. In short order, he purchased his father's Boats & Motors dealership in Austin, Texas selling Johnson Outboards and the common wooden boats of the era.
When Gaston began selling a line of new fibreglass boats from California and discovered demand outpaced the company's ability to supply, he and nine others invested US$25,000 to begin building fibreglass boats in Austin, and Glastron Boats was created in 1956.
Glastron grew to over 1,600 employees by the early seventies, making it one of the largest employers in Austin in its time and the largest fibreglass boat manufacturer in the US. In the 1990's it was sold to Genmar Holdings with manufacturing shifting to Minnesota. The company is now part of the Beneteau Group portfolio of Rec Boat Holding brands acquired in June 2014 and based in Cadillac, Michigan.
Gaston was involved heavily in the marine industry, serving as director, president and chairman of the Boating Trades Association of Texas, The American Boat and Yacht Council, the Boating Industry Association and two three-year appointments to the Boating Safety Advisory Council of the US Coast Guard. He received the coveted August A. Busch Award in recognition of outstanding contribution to boating safety.
A memorial service was held on 2 February in Austin.