Former chief operating officer immediately assumes responsibilities for all operations
Daniel Gutierrez been named president of the Tigé and ATX Surf Boats brands, the Texas-based boatbuilder announced this week.
Having joined the company in 2004, Gutierrez led marketing and product design for Tigé Boats for over nine years. He most recently served as chief operating officer, and immediately assumes responsibilities for all operations, product development and strategic positioning for both of the company's wake boat brands.
While COO, Gutierrez led the concept and creation of ATX Surf Boats, a stand-alone brand.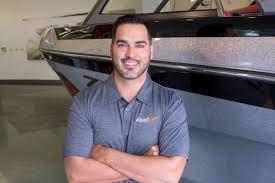 "With more than 15 years of service to Tigé, Daniel has been an effective, respected, and strategic leader," stated Charlie Pigeon, owner and CEO of Tigé Boats. "He has worked hard and committed to understanding all aspects of our business and he shares in the values that Tigé was founded on almost 30 years ago. Daniel's goals for growth are not surrounded around shareholders profits, but instead to provide our customers with the highest quality product and our business partners with the best working relationships."
Gutierrez serves as a board member for the Water Sports Industry Association (WSIA), is involved in multiple charitable organizations in Texas, and is a three-time guest speaker at Dreamforce, a Salesforce convention.