Thom Dammrich's successor introduced himself to the marine community this week at IBEX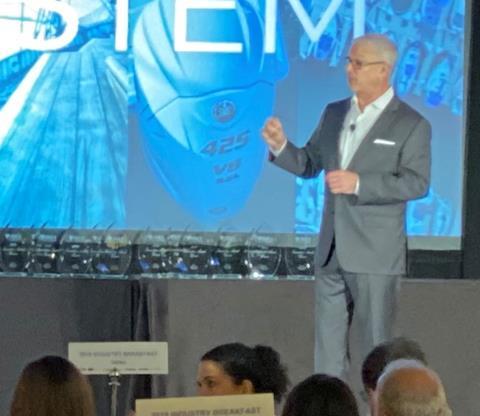 In his first official act on his first official day on the job, the new president of the National Marine Manufacturers Association (NMMA) introduced himself to the marine community during the industry breakfast opening the 2019 International BoatBuilders' Exhibition & Conference (IBEX) in Tampa, Florida this week.
Hugelmeyer, who was in a similar role with the RV Industry Association (RVIA) for the past four years and spent over 14 years with the Outdoor Industry Association (OIA), cited the 10 years he has worked with his NMMA predecessor Thom Dammrich – first on the Grow Boating campaign, and more recently creating the Outdoor Recreation Roundtable – as leading to his decision to join NMMA in the top job, along with a more personal connection.
Reminiscing that he was raised in a boating family on Long Island, New York, where both sets of grandparents and his parent had "not just one or two boats, but an armada of boats" at his disposal, Hugelmeyer noted that when his first son showed no interest in team or ball-sports, and he struggled to connect with him, "it was recreational boating and fishing that struck a chord with my son.
"So, boating and fishing have been a source of immense joy for me and my family," a clearly emotional Hugelmeyer explained to the assemblage, adding that the annual father-son fishing trips continue today.
As to the business of boating, the new president reinforced NMMA's commitment to grow the industry through attracting new-to-boating individuals who do business differently than the older demographics that make up most boaters today and ensuring access and a business-friendly environment through "offense-focused advocacy" not only in Washington, DC, but in state capitals as well.
"If we're smart about how we strengthen our relationships in our nation's capitals, if we support our customers at every turn, and if we embrace new ways to introduce consumers to the memorable, diverse outdoor experiences only available through boating, the future of our industry remains very bright," he concluded.