Bayliner founder and pioneer in mass merchandising of affordable boats donates US$50 million towards dementia research
Self-made billionaire and founder of Bayliner Boats, J Orin Edson, and his wife Charlene made a US$50m gift to Arizona State University (ASU) last month in support of the university's ground-breaking, multidisciplinary research on dementia and to enhance education and training for nurses and caregivers in the demanding field. Reported in the Chronicle of Philanthropy and The Arizona Republic newspaper, funds will be split evenly between the institution's College of Nursing and Health Innovation and Biodesign Institute
"The Edson family's generous gift helps to position ASU as a leader in tackling one of the most challenging health issues of our time," said ASU president Michael Crow, calling the donation 'transformational'. "Our belief is that it will serve as an example of how investing in research for the common good makes possible new breakthroughs, better outcomes and faster progress on a whole host of important problems facing society."
The University said the focus on dementia care and research is personal to the Edson family, but declined to give any details. "They have a personal involvement with dementia, that's all I can say," stated Gretchen Buhlig, chief executive officer of the ASU Foundation.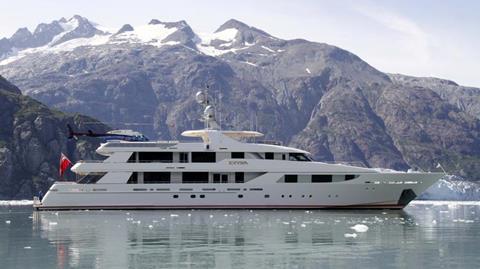 "We believe in ASU's interdisciplinary, collaborative approach to finding solutions," the family said in a statement. "We look forward to new discoveries and solutions to better the quality of life for people affected by brain disease and the heartache of those that love them."
Forbes has listed the 87-year-old Orin Edson among the 400 wealthiest people in the world with a total net worth of some $1.8bn. This latest donation is one of several notable contributions already made by Edson and his wife through the J Orin Edson Foundation, which supports the Fred Hutchinson Cancer Research Center, the Mayo Clinic, the ASU Foundation, the Coast Guard Foundation and animal-welfare related causes.
Edson's legacy is no less impressive in the boating sphere, where he built the Bayliner brand from scratch to a company churning out 1,000 boats per week from 24 plants across the US. He sold the business in 1896 for US$425m to Brunswick Corporation.
Just out of the Army at age 24 with a hobby in hydroplane boat racing, Edson found early entrepreneurial success selling off some of boats and equipment from an empty lot with a small shack, soon morphing into a marine dealership in 1955. Two years later, the Advance Outboard Marine Company, launched with his brother Walt, was making enough noise to attract the attention of a finance company and Mercury Marine which awarded the Edson brothers an outboard franchise in 1957. Soon the business was approaching US$2m in sales at a time when the national average in turnover for boat dealers was US$185,000.
Bayliner Boats had humble beginnings as well, with the brand purchased by Edson in 1961 for US$100 with only two runabout models manufactured on contract by a third party. One of the first to foresee the mass appeal of affordable boating to thousands of families, Edson stands out in the marine industry for his lasting impact on the growth of recreational boating and was an early architect of the "package" concept of selling a boat, motor and trailer as an easily financed package. The National Marine Manufacturers Association named Orin Edson to its Industry Hall of Fame in 1983.
After selling Bayliner, Edson invested much of the money into "stocks, bonds and Arizona real estate". He also bought Westport Shipyards based in Washington state and grew the brand before selling it in 2014. Edson bought a 164ft yacht built at Westport and launched in 2006 – at the time the largest production composite yacht in the world. The Edsons travelled the world aboard Evviva before selling her in 2015 for nearly US$25m.
Bayliner Boats Fact File
Founded in 1961, in Washington
Brand assets purchased for US$ 100
Annual production peaked at: 30,000+ units in 1980s
Sold to Brunswick Corporation in $425 million in 1986

SeaRay also purchased the same year for $350 million

Both Bayliner and Sea Ray are still owned by Brunswick
In 2018, Brunswick reported revenues for the two brands:

Sea Ray: 17% of boat revenues ($241 million)
Bayliner: 8% of boat revenues ($114 million)