Former CEO of Gernmar Holdings and his wife were found shot in their Minnesota home on Wednesday
Irwin Jacobs, the flamboyant former CEO of the now-bankrupt Genmar Holdings, and his wife Alexandra were found shot Wednesday in their Minnesota home in an apparent murder/suicide, according to local media reports. Both were 77.
Orono, Minnesota police reported the bodies of the couple were discovered on a bed, along with a handgun, according to KARE-TV.
A longtime business associate, Dennis Mathisen, told the Minneapolis Star Tribune that "Irwin killed his wife and himself."
Mathisen told the paper Mrs Jacobs has been in a wheelchair for the past year or so, was reportedly suffering from some symptoms of dementia, and that "Irwin was just distraught over her condition."
Police, however, did not go that far in releasing either an identity or cause of death. The County Medical Examiner is expected to confirm both on Thursday
According to Mathisen, the couple had been married for 57 years and had five children, one of whom – a son Mark Jacobs – confirmed to Mathisen his father's actions.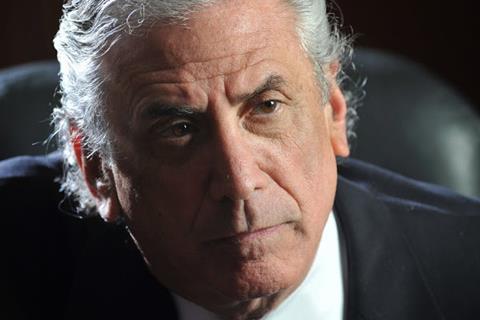 Jacobs made his fortune as a corporate raider in the 1970s and 80s, taking over conglomerates and breaking them up to unlock hidden value. Then he built his own conglomerate in the boating industry, turning Genmar Holdings into the second largest boat boatbuilder in the world. Among brands under the Genmar marquee were Aquasport, Carver Yachts, Champion Boats, Crestliner, Glastron, Hatteras Yachts, Larson Boats, Lowe Boats, Scarab Boats, Trojan Yachts, and Wellcraft.
In 2001, Genmar sold Hatteras Yachts to Brunswick Corporation in an $80 million cash transaction, but in 2009 the company filed for bankruptcy and was sold off in pieces:
In 2010, PBH Marine Group bought 11 brands, including Ranger Boats, Stratos Boats, Champion, Wellcraft, Four Winns, Larson and Glastron out of bankruptcy for $70 million.
Platinum Equity bought the Ranger and Stratos lines of business in February 2010.
The Carver Yachts and Marquis Yachts assets were purchased for $6.05 million by J&D Acquisitions LLC, a company created by Jacobs, along with investor John Paul DeJoria
Jacobs also became a big proponent of automation in boatbuilding, investing $30 million in what he dubbed VEC - virtual engineered composites. He introduced the technology to the industry in 2000, demonstrating production of an 18-foot boat hull in 35 minutes, vs. the normal 8 hour process along with reduced pollution, waste and labor. Genmar also said it was offering a lifetime guarantee on the hulls instead of the industry standard of five years. He was hoping other manufacturers would license the technology from Genmar.
At various times in his storied career, Jacobs also dabbled in fishing tournaments, cable television, owned a brewery and a minority stake in the National Football League's Minnesota Vikings.
Among his personal accomplishments, Jacobs underwrote and served as chairman of the 1991 International Summer Special Olympics Games, which were held in Minneapolis/St. Paul.
Services are pending.