SA catamaran builder confirms new management team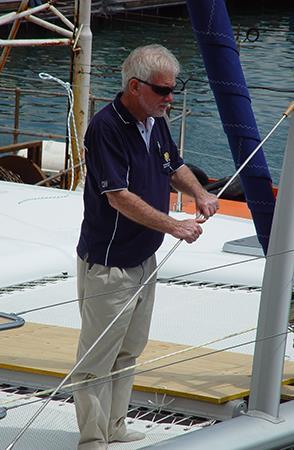 South African catamaran builder St Francis Marine has confirmed a new management team under the helm of chief operating officer Rob Brennan.
Brennan takes over from long-serving company founder Duncan Lethbridge, who stays on in an advisory capacity, the company announced in a statement. Brennan is joined by new chief financial officer Morton Beckley, and broker Rorke Miller.
The company, whose flagship model is the award-winning St Francis 50, was the first to begin luxury boat construction in St Francis Bay, situated between Cape Town and Port Elizabeth. The coastal town, once better-known for its fishing vessels than its luxury yachts, is now also home to Nexus Yachts, the South African partner of Balance Catamarans.
Lethbridge said he was happy to be handing over with the company poised for more success. "2019 will be an exciting time at St Francis Marine, the start of a new era for us," he said. "The factory is in full production and we are working on an exciting development for 2020.
"I am confident that Rob [Brennan] will continue my legacy of custom-made quality catamarans and wish him well for the future," Lethbridge said.
"Rob has been involved in the boating industry for 18 years first as Quality Assurance Manager for the largest catamaran manufacturer in South Africa and latterly as an accredited marine surveyor. He has extensive knowledge of fibreglass catamaran manufacture and repairs and has surveyed boats all over the world. Among his many qualifications, he is an accredited marine surveyor with the European Certification Bureau (ECB) in Holland, a South African Sailing (SAS) safety officer, a certified SAMSA small boat surveyor, an NMMA conformance specialist and an IMMARBE tonnage surveyor," he said.
St Francis Marine is considered one of South Africa's pioneer builders of luxury cruising catamarans, helping the country capture a significant share of the market.
Nexus Yachts manager Roger Paarman recently paid tribute to Lethbridge as a trailblazer who helped inspire other builders and establish a regional boatbuilding hub in the Eastern Cape province. "If Duncan could build a boat in St Francis, it was proof that we could do it too – that was definitely a factor," Paarman said in an interview last year with the South African Boat Builders Export Council. "It showed there had to be some skill it the area and it gave us (Nexus Yachts/Balance Catamarans) confidence to know that we could build boats here – and launch them too because of the port."